5 Players of IPL 2020 who Surprisingly went unsold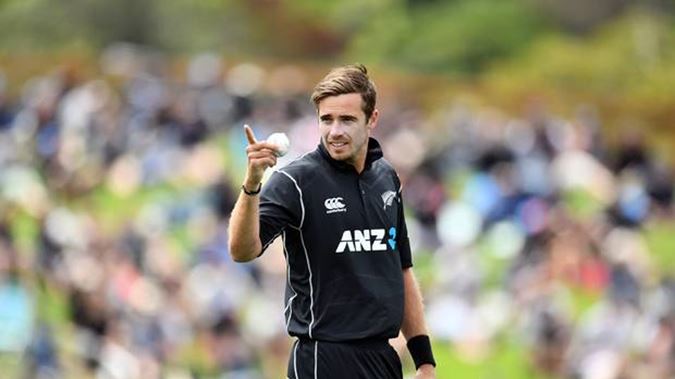 The auction for the 2020 season of the Indian Premier League (IPL) is currently underway in Kolkata. As synonymous with IPL auctions, the franchises are involved in a bidding war to select their favorite picks. To be precise, franchises usually look for those players who are hard-hitters and have earned a reputation for themselves in the realm of international cricket. For instance, in the first round of auction, Indian team players Hanuma Vihari and Cheteshwar Pujara each with base price of 50 lakh INR went unsold.
Both these players represent India in the longer format and not in white-ball cricket. This is probably why they failed to attract any takers in the IPL auction. In other words, T20 cricket demands hard-hitting batting which is not the natural style of both these players. Let's read on to find some big names that surprisingly went unsold.
5 IPL 2020 Players who Surprisingly went unsold
Tim Southee (New Zealand)
The 2019 IPL auction was all about the big names of New Zealand cricket. However, one of the biggest surprises of 2020 IPL auction was the lack of New Zealand players to have been picked up. Of course the likes of other New Zealand players like Trent Boult, Kane Williamson and Mitchell Santner are already reaping the success of their endeavors in IPL. However, in the 2020 auction, Jimmy Neesham was the only New Zealand player who was brought by Kings XI Punjab at a price of 50 lakhs.
But one of the biggest surprises was the non-inclusion of Tim Southee who played a crucial part in New Zealand's success over the years in big tournaments. Tim Southee possesses the ability to pick up wickets right at the onset of an innings. On the other hand, he also has the ability to chip in with economical spells during the death. This is the reason that no team has decided to pick him up.
Stuart Binny (India)
Well, Stuart Binny is a familiar name in the realm of Indian Cricket. He has his fair share of highs and lows since he donned the Indian jersey. However, speaking of IPL, Stuart Binny is a wonderful choice. He has the ability to play those little cameos when it is most needed. He can also bowl economical overs thereby stemming the flow of the runs. He may not have many scintillating performances to boast about in IPL, but he is definitely a player who can add depth to a certain team.
Another essential trait of Binny is his ability to add experience to the squad he is representing. Last year, Stuart Binny represented the Rajasthan Royals and had his share of highs and lows. But this time around, he went unsold as none of the franchises were interested in him. By adding Stuart Binny to the side, any side could have added more experience and depth. But all the 8 franchises decided to skip him.
Yusuf Pathan (India)
Yusuf Pathan is a name in IPL which is always synonymous with striking big sixes. His earlier franchise was the Sunrisers Hyderabad. He had a base price of 1 crore INR. To be precise Yusuf Pathan is one of the most ferocious strikers of the white ball cricket in the history of the IPL. Interestingly, he is the only Indian batsman who has West Indian strikers a run for their money when the context was about hitting the big shots. It is also worthwhile here to note that Pathan was one of the main architects of Rajasthan Royals' first triumph in the inaugural season of IPL.
It is also important to note that during his three years stint with the Royals, Pathan had scored a 37-ball century which made his reputation surge in the international circuit of T20 leagues. However, in the last few seasons of the IPL, Yusuf is not at his phenomenal best. Last year, he had a dismal IPL season both with the bat and the ball. Perhaps this is the reason that the franchises decided to skip him. But Yusuf Pathan on his day can be quite devastating and can turn any match single-handedly.
Martin Guptill (New Zealand)
Despite being one of the most destructive batsmen in the history of the white ball cricket, Martin Guptill couldn't find any takers for him. This also depicts the sordid story of New Zealand players who are enjoying a below-par IPL auction this year. The 33-year old may have been in poor form over a year, but despite that, he still has the ability to score runs at a decent pace. Interestingly, he averages just over 30 in the recent T20 international matches with a good strike rate.
On the other hand, an inform Guptill has the ability to do all sorts of damage to a bowling attack. In the World Cup of 2015, he scored an incredible 237 not out against the West Indies. Well, Martin Guptill is not one of those players who can hit the big shots right from the first ball. He takes time to settle down and that may be one thing which went against him. But after settling down, Martin Guptill is not the one who would throw his wicket cheaply. Thus, it is a huge surprise to see Guptill going unsold in the IPL auction.
Colin Ingram (South Africa)
South Africa Cricket always has the reputation of producing some fantastic cricketers in the world. Colin Ingram easily finds his name in the top list of international players that South Africa has produced. To be precise, has enjoyed immense success in his T20 career. He is also an integral part of a plethora of T20 teams and leagues around the world. Currently he is 34 and has deep experiences of participating in a variety of T20 tournaments. He was an integral part of the Delhi Capitals squad last year. In 256 T20 games that Ingram has played so far, he averages more than 30. He also has a good strike rate of 120 in T20 cricket. Also, Ingram possesses the ability to bat for longer periods. But despite of possessing all these qualities, he failed to make the cut in the auction of 2020.