India's Tour of West Indies – Match Fixtures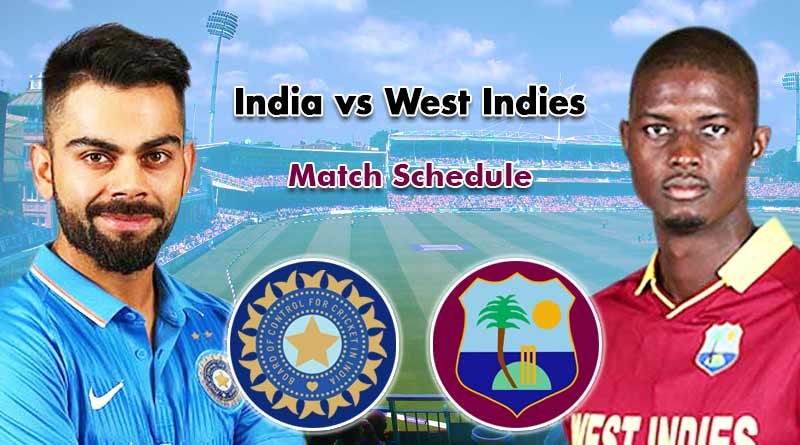 The Indian Cricket Team:
The National Men's Cricket Team of India has a full membership with the International Cricket Council or ICC with T20I or Twenty20 Internationals, ODI or One-Day Internationals, and Test Cricket status. The BCCI or Board of Control for Cricket in India governs Team India.
Team India had its first victory in Test Cricket in 1952 and its first World Cup victory under the captaincy of Kapil Dev in 1983 which was a victory against West Indies. The Asia Cup was won by Team India in 1984. The ICC World T20 was won by team India in 2007 under M.S. Dhoni's captaincy. India achieved the first position in Test ranking by ICC in 2009. In 2011, India had its second World Cup win under the captaincy of M.S. Dhoni. Under Sourav Ganguly's captaincy, Team India became joint winner of ICC Champion's Trophy in 2002 with Sri Lanka. In 2002, the NatWest Trophy was also won by team India under the captaincy of Sourav Ganguly.
The current squad of the Indian Cricket Team includes Virat Kohli (captain), Mahendra Singh Dhoni, Rohit Sharma, Hardik Pandya, K.L. Rahul, Ravindra Jadeja, Rishabh Pant, Jasprit Bumrah, Mohammed Shami, Dinesh Karthik, Bhuvneshwar Kumar, Yuzvendra Chahal, Kuldeep Yadav, Kedar Jadhav and Mayank Agarwal. Players that the opponent squad should watch out for include Kohli, Rohit Sharma, Jadeja, Bumrah and Bhuvneshwar Kumar.
The West Indies Cricket Team:
The multi-national cricket team of West Indies represents the Anglophone Caribbean region and Cricket West Indies governs it. Some of their achievements include the ICC Cricket World Cup in 1975 as well as in 1979, the ICC World T20 in 2012 and in 2016, and the ICC Champion's Trophy in 2004 and in 2006.
The current squad of West Indies Cricket Team includes Chris Gayle, Jason Holder, Carlos Brathwaite, Sheldon Cottrell, Shai Hope, Nicholas Pooran, Darren Bravo, Shimron Hetmyer, Evin Lewis, Oshane Thomas, Kemar Roach, Sunil Ambris, Ashley Nurse, Shannon Gabriel and Fabian Allen. The key players of the team include Chris Gayle, Darren Bravo, Holder and Brathwaite.
Statistics regarding the recent Cricket World Cup says that out of the 9 matches between West Indies and India, India has won 6 of them and none of the matches were tied. The highest score of India was 268 while that of West Indies was 282.
The India vs West Indies 2019 Series includes two tours, one by India in West Indies in August, 2019, and one by West Indies in India in December, 2019. There will be two India vs West Indies Series matches schedules or India vs West Indies 2019 Tour schedules but we will be discussing only the one involving India's tour of West Indies. Both the series are T20 Internationals.
INDIA VS WEST INDIES 2019 – Schedule
Date
Match No.
Match Details
Time
Results
03 August, 2019
1st T20I
West Indies vs India
Central Broward Regional Park Stadium, Lauderhill, Florida
20:00 IST
14:30 GMT / 10:30 LOCAL
India Won by 4 wickets
04 August, 2019
2nd T20I
West Indies vs India
Central Broward Regional Park Stadium, Lauderhill, Florida
20:00 IST
14:30 GMT / 10:30 LOCAL
India Won by 22 runs
06 August, 2019
3rd T20I
West Indies vs India
Providence Stadium, Guyana
20:00 IST
14:30 GMT / 10:30 LOCAL
Not Played Yet
08 August, 2019
1st ODI
West Indies vs India
Providence Stadium, Guyana
19:00 IST
13:30 GMT / 09:30 LOCAL
Not Played Yet
11 August, 2019
2nd ODI
West Indies vs India
Queen's Park Oval, Port of Spain, Trinidad
19:00 IST
13:30 GMT / 09:30 LOCAL
Not Played Yet
14 August, 2019
3rd ODI
West Indies vs India
Queen's Park Oval, Port of Spain, Trinidad
19:00 IST
13:30 GMT / 09:30 LOCAL
Not Played Yet
22 – 26 August, 2019
1st Test
West Indies vs India
Sir Vivian Richards Stadium, Antigua
19:00 IST
13:30 GMT / 09:30 LOCAL
Not Played Yet
30 August – 03 September, 2019
2nd Test
West Indies vs India
Sabina Park, Kingston, Jamaica
20:00 IST
14:30 GMT / 09:30 LOCAL
Not Played Yet