India vs Australia 1st T20I Highlights: India beats Australia by 11 runs to take 1-0 lead; Natarajan, Chahal shine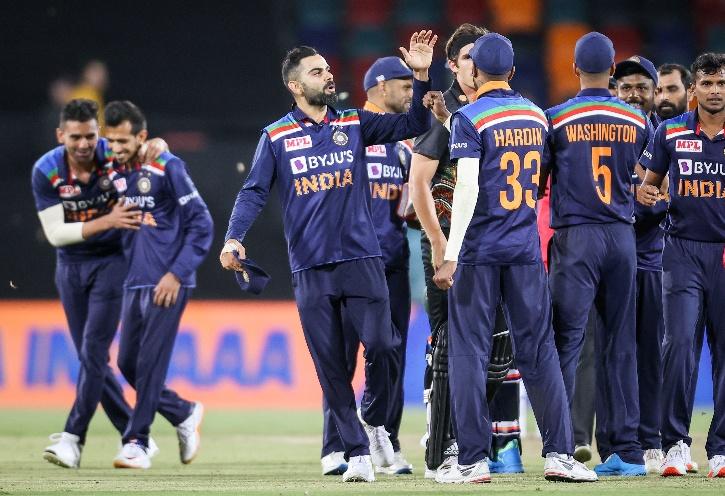 Australia vs India 1st T20 Highlights: T. Natarajan and Yuzvendra Chahal shared six wickets among themselves as India beat Australia by 11 runs at the Manuka Oval.
Result: India beats Australia by 11 runs to take 1-0 lead. T. Natarajan and Yuzvendra Chahal shared six wickets among themselves as the Indian team came out with a clinical show to draw first blood.
Australia 135/7 after 19 overs: What a dream debut Natarajan has had as he picks his third wicket and finished with 4-0-30-3. Australia needs 27 runs in 6 balls.
Australia 127/6 after 18 overs: Deepak Chahar strikes and he removes the dangerous Moises Henriques as Australia needs 35 runs from 12 balls.
Australia 122/5 after 17 overs: India leaves Chahal out of the playing xi and he comes as concession substitute to take three wickets and what an outstanding spell this has been. He finishes with 4-0-25-3 and Australia coach Justin Langer is certainly not pleased.
Australia 116/4 after 16 overs: What a spell by Sundar as he finishes with 4-0-16-0. Australia needs 46 in 24 balls.
Australia 113/4 after 15 overs: Is that the game for India as Pandya takes a gem at long-on as Natarajan picks his second wicket. Australia needs 49 off 28.
Australia 104/3 after 14 overs: Chahal doing an excellent job in the absence of Jadeja and he has kept a lid on the scoring.
Australia 95/3 after 13 overs: Henriques pulls Shami for a maximum and the India pacer continues to leak runs.
Australia 85/3 after 12 overs: Tight over from Sundar as allows six singles and the required rate has jumped up to 9 rpo.
Australia 79/3 after 11 overs: Natarajan strikes on debut and he gets the prized scalp of Glenn Maxwell. What a ball! Length delivery, jagged back in, Maxwell misses the ball as it thuds into the pads and Kohli went for the review straightaway. India firmly in control.
Australia 74/2 after 10 overs: Top stuff from Chahal and this is a superb catch from Samson who puts in a timely dive to get the big fish. Fabulous from Chahal as India fights back.
Australia 68/1 after 9 overs: Smith as picked the bones out of it as he hammers Chahar for a maximum.
Australia 58/1 after 8 overs: There's the wicket and Chahal – who has come in place of Jadeja as the concession substitute removes Aaron Finch. Hardik Pandya takes a superb diving catch near long-off and India have the breakthrough.
Australia 54/0 after 7 overs: Oh Dear! India srop both Finch and Short off successive deliveries and Deepak Chahar is just distraught. First Manish Pandey drops Finch at backward point and then Kohli drops a sitter as Australia continue to accumulate runs.
Australia 53/0 after 6 overs: Natarajan into the attack and he begins with an eight-run over and both Finch and Short have got their eye in.
Australia 45/0 after 5 overs: Finch is in great touch with the willow as he picks up Shami and deposits the fast bowler well over backward square leg for a maimu. Top batting.
India 33/0 after 4 overs: Advantage India as Chahal comes as concession substitute for the injured Ravindra Jadeja. Justin Langer is not happy but he can't do much. Meanwhile, another good over from Sundar.
Australia 26/0 after 3 overs: Short is not holding back as he punishes Shami for two back to back boundaries – a cut behind pint and then through the covers.
Australia 16/0 after 2 overs: Excellent start from Washington Sundar as he gives just two and India needs to make a breakthrough.
Australia 14/0 after 1 over: Finch and Short are off to a great start as the Australian captain doesn't allow Chahar to settle into a rhythm and smacks him for two boundaries. Short, meanwhile, powers one down the ground to give his team a flying start.
Right then we are back for the chase and it will be Aaron Finch along with D' Arcy Short. For India, it will be Deepak Chahar with the new ball.
End of Innings: India posts 161/7 after 20 overs
Ravindra Jadeja's unbeaten 44 off just 23 balls, including five boundaries and a six has powered India to a competitive 161/7 in 20 overs. What hitting this has been from the all-rounder after the Indians were six down and staring down the barrell. Over to the bowlers.
India 150/6 after 19 overs: Absolutely fantastic batting from Jadeja as he smokes Hazlewood for 23 runs including three boundaries and a six, despite battling a hamstring injury. The 150 is up for India and this has been a fine recovery.
India 127/6 after 18 overs: Washington Sundar gets a boundary down the leg side and these are useful runs for India… Jadeja needs to finish good and this pitch has something for the bowlers.
India 115/6 after 17 overs: Henriques strikes and he has removed the dangerous Hardik Pandya, who failed to cash in a life, handed by Abbott. India in deep trouble with just 115 runs on the board.
India 104/5 after 16 overs: Pandya and Jadeja hold the key after India lose wickets in regular intervals. The 100 is up and in the next four overs, it should be fireworks from Pandya.
India 97/5 after 15 Overs: Zampa continues. India under tremendous pressure at the moment. They've collapsed in dramatic fashion. Turning out to be yet another excellent over for the host. Just four singles off it in the end.
India 93/5 after 14 Overs: Henriques into his third. Three dots to start the 14th. The batsmen steal a single off a leg-bye. It's imperative that Rahul stays there till the end. Pandya will be expected to go after the bowling. Oh, commentator's curse! Rahul perishes and this is a huge wicket for Australia. Ravindra Jadeja joins Pandya.
India 91/4 after 13 Overs: Adam Zampa is back into the attack. Good start to the over. Just a single off the first three deliveries. GONE! Another one bites the dust – Pandey departs. Hardik Pandya joins Rahul.
India 89/3 after 12 Overs: GONE! Samson departs, Henriques has his first. Yet again, the keeper-batsman fails to convert a start. Manish Pandey joins KL. After facing three dots, Pandey is off the mark with a couple.
India 86/2 after 11 Overs: Sean Abbott is back into the attack. His first over went for 12. Samson, now, blasts a boundary through deep extra cover. He is looking good, is Samson. He takes a single next ball and gives the strike to KL. Rahul gets to his 50 with a single to deep square leg. A fifty off just 37 balls.
India 75/2 after 10 Overs: Moises Henriques comes into the attack. Starts well. Three singles off the first three. KL is nearing his fifty. A brace from Samson off the fourth ball. Just two singles to end the over. Seven off it.
India 68/2 after 9 overs: Fabulous kick-off from Samson as he smokes Swepson for a maximum and then Rahul gets into the act as he pulls for a boundary. This partnership will be crucial.
India 56/2 after 8 overs: Rahul is looking in good touch and Samson can explode at any given point of time. Australia attacking with spinners but both Rahul and Samson can hit the ball, a fair distance.
India 51/2 after 7 overs: Kohli falling to another leg-spinner and this time it's not Zampa it's Mitchell Swepson who gets the Indian captain with a soft dismissal. Takes an easy caught and bowled and that brings Sanju Samson to the crease.
India 42/1 after 6 overs: Rahul got a leading edge that ran to the boundary but the next ball, he dispatched Abbott high over the deep mid-wicket for a maximum. He is in such good touch and gets a pat from the skipper.
India 30/1 after 5 overs: Rahul welcomes Zampa with a brilliant drive through the covers for a boundary and the idea of getting Zampa to dismiss Kohli is clearly on Finch's mind.
India 21/1 after 4 overs: Kohli is up and running with a boundary over the mid-wicket and Rahul is dealing in singles, ticking the scorecard nicely.
India 13/1 after 3 overs: Mitchell Starc strikes and he uproots the off pole of Dhawan who goes for a wild slog, misses the line and Australia strikes early. Virat Kohli walks in.
India 6/0 after 2 overs: Dhawan is off the mark with a single through the covers and Hazlewood bowls a very tight over, giving just two runs.
India 4/0 after 1 over: KL Rahul and India off the mark as Mitchell Starc continues to search for his rhythm and India won't mind that.
Alright we are all set for the first T20I and it will be KL Rahul along with Shikhar Dhawan who will open the batting for India. For Australia, it will be Mitchell Starc who will start proceedings with the new ball.
Toss: Australia won the toss and opted to bowl first against India in the first T20I.
Playing XI
India: Shikhar Dhawan, KL Rahul(w), Virat Kohli(c), Manish Pandey, Sanju Samson, Hardik Pandya, Ravindra Jadeja, Washington Sundar, Deepak Chahar, Mohammed Shami, T Natarajan
Australia: Aaron Finch, D'Arcy Short, Matthew Wade, Steven Smith, Glenn Maxwell, Moises Henriques, Sean Abbott, Mitchell Starc, Mitchell Swepson, Adam Zampa, Josh Hazlewood
Confirmation: Natarajan will make his T20I debut and he receives his cap from Jasprit Bumrah.
We are all set for the first T20I to begin and after a good outing on his debut, T Natarajan in all likelihood will be making his T20 debut.
Short of resources in ODIs, India will have enough options to choose from to pose a stiffer challenge to Australia when the two sides clash in a three-match T20 series beginning here on Friday.
The 1-2 ODI series loss reaffirmed that India has a lot of work to do in the 50-over format but they possess a much more balanced squad in the shortest format.
Before the pandemic suspended sporting activities around the world, India had blanked hosts New Zealand in a five-match series and they will be taking a lot of confidence out of that result into the contest against Australia.
Squads:
India: Virat Kohli (Captain), Shikhar Dhawan, Mayank Agarwal, KL Rahul (vice-captain and wicket-keeper), Shreyas Iyer, Manish Pandey, Hardik Pandya, Sanju Samson (wicket-keeper), Ravindra Jadeja, Washington Sundar, Yuzvendra Chahal, Jasprit Bumrah, Mohd. Shami, Navdeep Saini, Deepak Chahar, T Natarajan.
Australia: Aaron Finch (C), Sean Abbott, Ashton Agar, Alex Carey, Cameron Green, Josh Hazlewood, Moises Henriques, Marnus Labuschagne, Glenn Maxwell, Daniel Sams, Kane Richardson, Steven Smith, Mitchell Starc, Marcus Stoinis, Matthew Wade, A'Arcy Short, Adam Zampa.