India beat England by 36 runs to win the T20 series – as it happened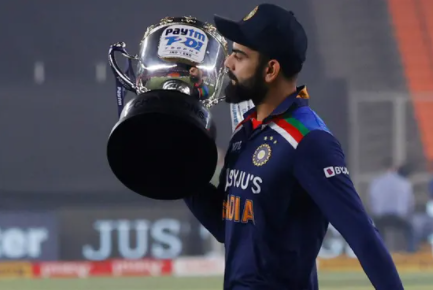 India were just too good for England, who did well to hang in there for three-quarters of the match, and then fell apart. To the Virat, the spoils.
Thanks for your company and your correspondence. A more Guardian-ish match report will be along soon, and we'll be back on Tuesday with the first OBO of the ODI series in Pune, where play will start at 8am GMT sharp. Is there time to send for Alex Hales?
The leading wicket-taker in the series was Shardul Thakur, who sneaked past Jofra Archer at the death. One day, a cricket historian will look at the series averages and scratch her head, because she will find 37 of the 50 wickets to fall to bowlers being taken by the seamers, and only 13 by the spinners. Axar Patel, the scourge of England in the Tests, didn't even take one.
Not everyone is happy with Kohli. "This," says Ram Sridhar, "is exactly why I rate Kane Williamson much higher than Virat Kohli for his on-field ethics, professionalism and empathy alongside his batting elegance. VK might be one of Top 2 batsmen with a phenomenal 50+ average across the formats, but like Johnson (veteran of sledging) – well, most of the Aussies are – and Anderson (again one of the best but used to sledge the tourists a lot), he distracts his opponents with his unwarranted antics. KW is an absolute gem."
Kohli says he'd like to continue opening, and will do so in the IPL. He loved the way his team played today: "I think it was a complete game from us." Before the IPL, there's an ODI series against England – and India, with two series wins in their pocket, will now be favourites for that too.
Player of the Series is … Virat Kohli. Fair enough: he was easily the highest run-maker, with 231, and he was only out twice. He made 59 more than the next man, Buttler, at the same strike rate of 147. And all this after a run of poor form. He's a phenomenon.
Player of the Match is Bhuvi Kumar, and rightly so. This was a classic example of the way a match full of runs is decided not by the batsmen, but by one good spell of bowling. In fact one over, the 13th of the England innings. "Get Buttler!" was the instruction, and he did.
The Gamechanger of the Match is Rohit Sharma, who didn't so much change the game as shape it by making 64 off 34 balls.
The Joot of the Match award goes to Malan and Buttler for their partnership of 130 off 12.3 overs. It seems a long time ago now, but it was excellent while it lasted. And Malan, back on form today, has become the fastest man to 1000 runs in T20 internationals.
Talk of the devil: here's Eoin Morgan. He feels it's been an extremely productively series, though he would have liked more turn in the pitches. "India outplayed us in certain big moments in the game and thoroughly deserved to win," he says. "[But] we played some really good cricket both today and in the whole series, so there's a lot of positives for us to build on." Asked to elaborate, he mentions "the PowerPlay bowling… especially Adil Rashid".
India are now firm favourites for the T20 World Cup in October. They approached this series one way, tinkering, experimenting, trying new things. England went the other way, keeping an unchanged team, putting their faith in pace over spin, and spurning Moeen Ali, in a way that must have driven Joe Root mad.

The toss was on England's side, but the force was with India, along with home advantage and the edge supplied by the IPL, which gives their fringe players a priceless taste of pressure. Today they finally dropped KL Rahul, who is out of form, and so they got a flying start. Rohit was imperious, Kohli subdued but effective, Yadav audacious, Pandya brutal. Buttler and Malan kept England in it for 11 overs, but when Kumar surgically removed Buttler, England regressed about 15 years and simply wilted. They lost four wickets for 12 in 17 balls, and the game was up. The best thing they did today was a piece of fielding: Chris Jordan's dash round the boundary to hand a catch to Jason Roy, who took it and roared with laughter.
India win by a country mile
20th over: England 188-8 (Curran 14, Rashid 0) Sam Curran joins Jordan in hitting one defiant six, a lovely square drive off Thakur. And he manages another off the last ball, swinging straight down the ground. He's made his point – why did you demote me? – but India have won the match, and the series, in style. They went behind twice, equalised twice, and then galloped to victory with a huge score and a superb salvage act in the field when Malan and Buttler were threatening a heist. The better team won.