ICC World Cup 2019 Team India Analysis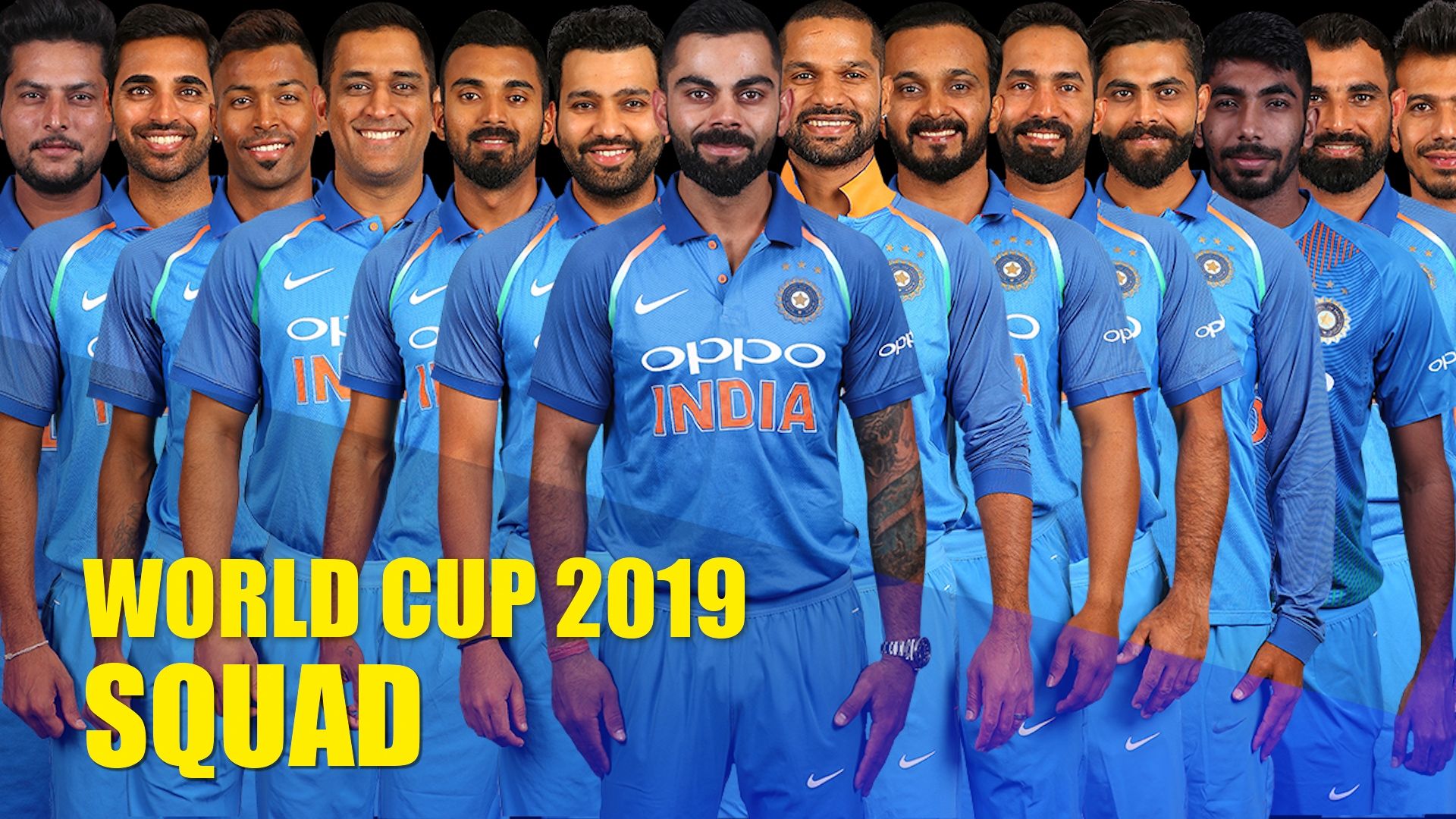 The Team India for ICC World Cup 2019 is a young and talented one and hopes are high that this team has the spirit to bring the Cup home this year. The squad comprises of Kedar Jadav, Rohit Sharma, Shikhar Dhawan, Virat Kohli, Hardik Pandya, Ravindra Jadeja, Vijay Shankar, Dinesh Karthik, KL Rahul, M.S. Dhoni, Bhuvneshwar Kumar, Jasprit Bumrah, Kuldeep Yadav, Mohammad Shami and Yuzvendra Chahal.
Strengths: The team will definitely play to its strengths. It has a wonderful captain in Virat Kohli and a senior player like M.S. Dhoni who can guide the young captain in crunch moments. The team has a proven performer in Hardik Pandya and exciting youngsters in Vijay Shankar, KL Rahul and Kedar Jadhav. Ravindra Jadeja and Pandya give the team two solid all-rounders with Kedar Jadhav backing them up while they also have Shankar who can bat and bowl with gusto. The team also has one of the best death bowlers in its ranks, Jasprit Bumrah, while Mohammed Shami and Bhuvneshwar Kumar make for a good pace duo on swinging English pitches. The Men In Blue also have a good spin duo in Yuzvendra Chahal and Kuldeep Yadav. Of course, Shikhar Dhawan and Rohit Sharma are arguably the best openers in world cricket at the moment.
Weaknesses: The weakness of the team is an overdependence on the top three batsmen and the middle order has often failed to bear the stress after the first three batsman have returned to the pavilion early. Kedar Jadhav is still recovering from an injury and it remains to be seen whether the number 4 conundrum will finally be solved. Vijay Shankar or KL Rahul have to be right on the ball in order to lend solidity to the middle order after the top three since MS Dhoni is no longer the finisher that he was.
Opportunities: The team has however; proven to be quite flexible and coach Ravi Shastri is hopeful that they will be able to handle all the stress pretty well. It can easily alter the batting order. The bowlers are charged up and Jasprit Bumrah and the others are being relied upon to take early wickets. Hardik Pandya is going through a winning streak and if he manages to stay on for five or six overs, he has the ability to become a match winner. The bench looks good and Dinesh Kartik, Ravindra Jadeja and KL Rahul will be there to provide the team adequate support whenever needed. India ideally requires one of its openers to bat right through the innings with Virat Kohli expected to display his batting prowess. Kuldeep and Chahal can be quite a handful in the middle overs while Pandya and Jadeja provide extra bowling options along with Shankar if they all feature in the line-up on a particular day. Bumrah can restrict runs in the last few overs while taking a few wickets while Bhuvneshwar and Shami both have good economy rates.
Improvement Areas: There are some areas of improvement and the team should not dwell on the past, especially the loss against Australia. The team has gone to the World Cup with just three pacers and they have to put in their best foot forward. The pace trio has to be fit, consistent and relaxed in order to give their best. India's fielding has improved drastically in recent times although much work needs to be done. The middle order always has room for improvement with regard to reducing the reliance on the top three. Players like Kedar Jadhav, Ravindra Jadeja and Dinesh Karthik will have to get back in form while Vijay Shankar's role has to be clearly defined.