India vs Pakistan ICC Cricket World Cup 2019 Match: Key Players and Battles to watch out for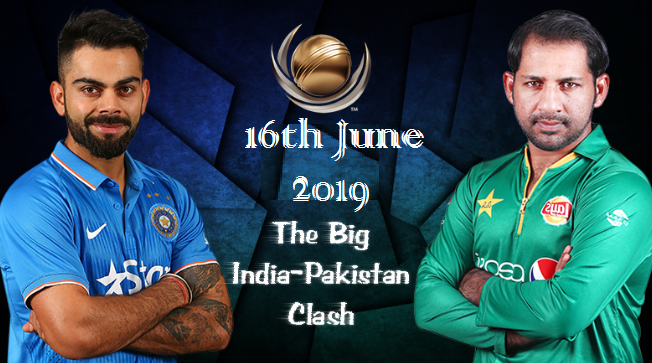 India and Pakistan are set to meet in a cliff-hanger of sorts in the ICC World Cup 2019 on the 16th of June, 2019. Not that enthusiasts need any reminding of the India vs Pakistan World Cup 2019 match date! The India vs Pakistan world cup match 2019 is billed to be the most-watched encounter of the year and why not! After all, the sheer intensity of an India vs Pakistan world cup match is unmatched as we all know.
India vs Pakistan world cup 2019 is thus set to be an exciting encounter where the two teams will once again resume their battle on the pitch albeit in newer avatars.
India vs Pakistan in World Cup: Head to Head record
Before the onset of the India vs Pakistan World Cup 2019 match, it should be mentioned, that in all the India Pakistan match world cup tally, India have beaten Pakistan 6 times in the cricket's premier event and Pakistan have not beaten India even once in their head to head battle. As a result, they will be desirous of finally breaking this jinz at the India Pakistan Match 2019 World Cup. The India vs Pakistan match 2019 will also be an opportunity for Virat Kohli's Indian team to continue the winning streak with gusto.
Before the India Pakistan match 2019, it should be mentioned that India is now at third position on the ICC Cricket World Cup points table, having won two out of two games (4 points) while Pakistan is at the 6th position, having won one and lost one. Also, one game was abandoned due to rains (3 points).
India vs Pakistan – Team India Advantages
Team India definitely have several advantages against Pakistan. For one, they are finally functioning like a well-oiled and confident unit and of course, with Pakistan being the opponent on the cricket field, the India Pakistan live match will certainly get the adrenaline pumping! Jasprit Bumrah and Bhuvneshwar Kumar will look to continue their good work with the ball, by picking up early wickets and stifling runs in the death overs while Kuldeep Yadav and Yuzvendra Chahal should be a handful for the Pakistani batsmen in the middle overs.
At the same time, Hardik Pandya has been batting well and is a competent all-rounder while Virat Kohli has also got back in form with a well-made 82 recently. Shikhar Dhawan has also returned to form with a century in the last game while Rohit Sharma continues to be in good form. The Indian team looks set to take the battle to Pakistan and should they keep firing on all cylinders, may even dominate the proceedings.
India vs Pakistan – Team Pakistan Advantages
Pakistan are in a see-saw at the moment, having lost one game and won one so far. Imam-ul Haq certainly seems to be a good find at the top of the order and will be given great support by the stroke-maker Babar Azam. Captain Sarfraz Ahmed can is also capable of playing handy knocks in the middle overs or towards the end. At the same time, Pakistan have one of their most experienced campaigners in Shoaib Malik who can be an asset, lending more balance to the team.
Mohammad Amir can be outstanding with the ball on his day while Fakhar Zaman may propel the team to a huge score in case he gets going early. Mohammad Hafeez is another great prospect who can be a great leveller with his batting and bowling alike.
Battles to Watch out For:
Rohit Sharma vs. entire Pakistan bowling line-up: It will be interesting to see how Pakistan's pace battery of Wahab Riaz, Hassan Ali and Mohammad Amir tackle Rohit Sharma's rich vein of form. Sharma, on the other hand, will be looking to settle down by playing out the early overs like he has been doing and then start smacking it out of the park. Riveting stuff ahead!
Virat Kohli vs. Mohammad Amir: Mohammad Amir is not known as the Pakistan golden fast bowling prodigy for nothing! If he can get India's captain and arguably the world's best batsman out early, he'll be a hero for his country. Similarly, Virat will have an array of strokes and a fortress-like technique to counter Amir on a swinging pitch. Another delightful battle for cricket fans this!
Sarfraz Ahmed vs. MS Dhoni: Sarfraz Ahmed is certainly the fulcrum for his team as the captain and wicketkeeper. In MS Dhoni, India too has a similar statesman, much older, experienced and a prolific achiever. Although no longer the captain, Dhoni is a huge help to Kohli with strategies, field placements and the likes. He's also in red hot form when it comes to his keeping and is still one of world cricket's best finishers. It will be interesting to see how Sarfraz a highly competent batsman and decent keeper, matches up to him not just in terms of his cricket but also decision making and mental strength!
Babar Azam vs. Jasprit Bumrah: India's best bowler (and ICC Rank 1 bowler) taking on Pakistan's exciting young prospect who has been consistent all throughout. Expect swinging deliveries and aggressive shot-making in this battle which is sure to keep you glued to the screen!
Shoaib Malik vs. Kuldeep Yadav/Yuzvendra Chahal: Malik loves playing spin and India's foremost spin duo will certainly look to keep him guessing. This is one battle which will most likely pan out in the middle overs, making for an engrossing affair by all means.
Hardik Pandya vs. Mohammad Hafeez: Another engaging battle, both premier all-rounders will look to outdo each other with both bat and ball whenever they get the chance! From blistering strokes and effective bowling to prowess on the field, this one's a box office super hit in the making!
Sarfraz Ahmed will have to galvanize the spirit of his youngsters and motivate them to do well against India which has some of the world's best players at this point in time (not that they need much prodding!). On the other hand, India will look to retain their blemish-free World Cup record against Pakistan by recording a thumping performance where they will seek to outclass their rivals in every department of the game.
Stay tuned for this India Pakistan match in the ICC Cricket World Cup 2019!!!