India vs England ICC Cricket World Cup 2019 Match: Key Players and Battles to watch out for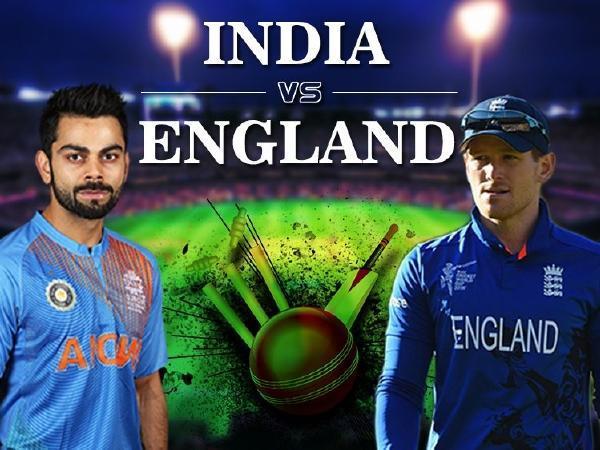 India will take on England in a power packed game on the 30th of June, 2019. Both teams are arguably two of the best outfits playing in the competition at the moment. England will look to finally get their hands on a World Cup trophy while India will look to keep the winning momentum intact and land a third World Cup victory.
India-England Head to Head
In the World Cup, England and India have played each other 7 times. Both teams have won 3 games each. One game has been tied. As a result, they are pretty evenly matched with each other on this count.
Team England Advantages
Team England have the advantage of knowing the unpredictable home conditions better than anybody else as is natural. Also, the team is playing excellently together. In Jonny Bairstow and Joe Root, the team has two world-class batters that can outplay any opposition on their day while Captain Eoin Morgan has touched a rich vein of destructive form which can be fatal for any bowling lineup. Jos Buttler is a competent wicket-keeper along with being a destructive batsman as well while they have one of the best all-rounders in the world in Ben Stokes. Moeen Ali lends great balance to the side with his batting and bowling while Adil Rashid can be a potent spin threat on his day. Jason Roy is another excellent batting prospect along with James Vince while Jofra Archer, Mark Wood and Chris Woakes make for a steady bowling combination that has remained disciplined till now in the tournament.
Team India Advantages
India will naturally count on the steady and calm KL Rahul to steer their innings at the top while Rohit Sharma's blistering form and Captain Virat Kohli's elegance are unmatched at the moment. In MS Dhoni they have the astute thinker cum finisher while Kedar Jadhav, Vijay Shankar and Hardik Pandya can finish games off by hitting out at the end. Pandya and Shankar have emerged to be great mainstream bowling options as well which lends India a lot of balance. At the same time, the spin bowling duo of Kuldeep Yadav and Yuzvendra Chahal will get them through the middle overs with panache while taking vital wickets as they have been doing all throughout the World Cup. In Bhuvneshwar Kumar and Jasprit Bumrah, India have two of the best frontline pacers in the tournament as well. In case Bhuvneshwar does not play due to injury as is feared, Mohammad Shami will take over and he can be a major threat in English conditions.
Battles to watch out for
Rohit Sharma vs. Jofra Archer- Rohit Sharma will take it upon himself to dispatch the kingpin of England's fast-bowling attack, Jofra Archer, out of the park. Archer, on the other hand, will look to make this major early break-through to put his team ahead. This will be an engrossing battle for sure!
Virat Kohli vs. Moeen Ali/Adil Rashid- Both spinners know how destructive Virat Kohli can be and will be aiming to castle him without much damage in the middle overs if possible. However, Kohli, who has many a trick up his sleeve, will look to inflict as much damage as possible.
Hardik Pandya vs. Ben Stokes- In the race for the best all-rounder's crown at the 2019 ICC World Cup, Pandya and Stokes will go hard against each other. They will bowl to get each other out while they will also look to go hammer and tongs with the bat against each other whenever that lip-smacking opportunity arises!
Eoin Morgan vs. Kuldeep Yadav/Yuzvendra Chahal- Morgan is in belligerent form as he showed against Afghanistan, smashing 17 sixes in an innings, a world record! However, Kuldeep and Chahal will look to arrest his scoring, tightening the screws and possibly beating him with flight, something that Morgan will look to combat while scoring runs fast at the same time.
Joe Root vs. Jasprit Bumrah- Possibly the best batsman in the English side at the moment, Root is known for its technical acumen and prowess. He will aim to score as many runs as possible against Bumrah, one of the world's best bowlers at the moment. Bumrah, on the other hand, knows the value of this crucial wicket and will aim to unsettle Root before attempting to get him out early.