List of ICC T20 Cricket World Cup Winners Since 2007 to Present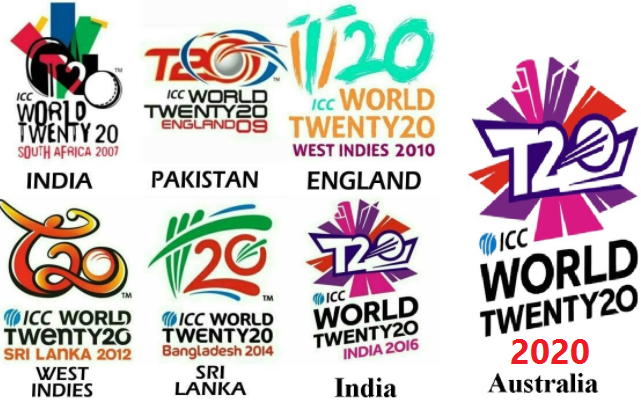 The ICC T20 World Cup (previously known as ICC World Twenty20) is a International Twenty20 cricket tournament organised by International Cricket Council (ICC). The idea of T20 Cricket was first proposed by ECB Marketing Manager Stuart Robertson in England. After seeing huge success in domestic tournaments ICC decided to have a World cup starting from 2007 in every two years except any ICC 50 Over World cup don't fall at that year.  The first edition of T20 cricket world Cup was held in South Africa which was won by India against Pakistan in 2007. T20 World Cup 2020 schedule has been announced by ICC which will take place in Australia, 4 years after the conclusion of the last edition. West Indies are the current T20 World Cup holders, beating England in the final of 2016 tournament.
At the present, ICC T20 World Cup consists of 16 teams, comprising the top 10 teams from the rankings at the given deadline and 6 other teams chosen through the T20 World Cup Qualifier. All matches are played as Twenty20 Internationals. Singapore emerged as the top team in the ICC T20 World Cup Asia Qualifiers recently held in Singapore this year.
So far 6 ICC T20 World cup tournaments have been played till date and West Indies Cricket team are the only team to have won the tournament twice (2012, 2016). Australia, New Zealand and South Africa are the other top levels teams but, they have never won the T20 World Cup yet. Here are the list of all T20 cricket World Cup Winners team from year 2007 to till date. You can also check Year, runners up teams, result and hosted country as well.
Men's T20 World Cup Winners List (2007 to Present)
| | | | | |
| --- | --- | --- | --- | --- |
| Year | Winner | Runner Up | Result | Host Country |
| 2021 | – | – | – | India |
| 2020 | – | – | – | Australia |
| 2016 | West Indies | England | West Indies won by 4 wickets | India |
| 2014 | Sri Lanka | India | Sri Lanka won by 6 wickets | Bangladesh |
| 2012 | West Indies | Sri Lanka | West Indies won by 36 runs | Sri Lanka |
| 2010 | England | Australia | England won by 7 wickets | West Indies |
| 2009 | Pakistan | Sri Lanka | Pakistan won by 8 wickets | England |
| 2007 | India | Pakistan | India won by 5 runs | South Africa |