ICC Men's T20 World Cup 2020 Schedule, Teams, Matches, Time Table & Venues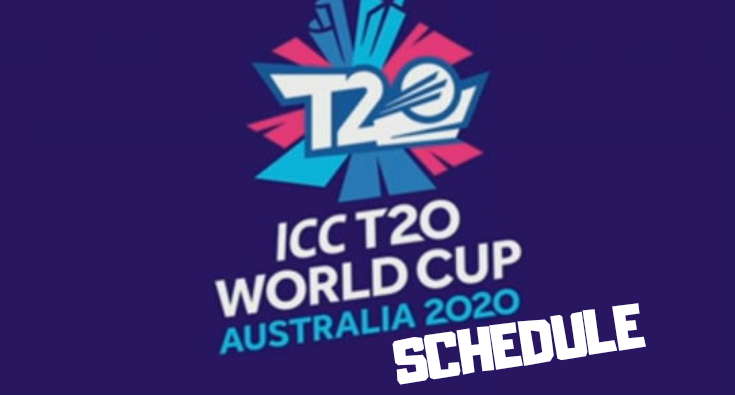 The 7th edition of Men's ICC T20 World Cup will be played in Australia. T20 World Cup 2020 gets underway from 18 October 2020 to 15 November 2020. The final of the tournament will be held at the Melbourne Cricket Ground on 15th November 2020. The first match of the ICC T20 World Cup 2020 will be played between Sri Lanka and Ireland on 18th October 2020 at the Kardinia Park Stadium. The first T20 World Cup won by India after defeating Pakistan by 5 runs in final match in 2007.
West Indies is the current defending champions, who has won the World Cup 2 times which is the highest amongst all the teams, while Sri Lanka, England, India, and Pakistan won the title each time.
ICC T20 World 2020 Important Details
| | |
| --- | --- |
| Hosted Country | Australia |
| Time | 18 October 2020 to 15 November 2020 |
| Final | November 15 (Melbourne Cricket Ground), 1:30 PM (Indian Standard Time) |
| Total Teams | 16 |
| Total  Matches | 45 |
| Prize Money | $ 1 million (£ 773,500 / € 893,300) |
In July 2019 International Cricket Council (ICC) announced that all its 104 member nations, comprising both men's and women's teams, were granted T20I status. Hence, in order to make its way into the ICC T20 World Cup, a few teams need to play the qualifiers, which will secure their place in the tournament in Australia. According to the ICC T20I rankings on December 31st, 2018, the top 8 teams earned direct entry into the world cup. Sri Lanka and Bangladesh are the regular nations to miss out and will need to play the qualifier round to enter into the Super 12 phase of the tournament. Finding out the ICC T20 World Cup 2020 date and match timings is now just a few clicks away.
Bangladesh, Sri Lanka to play first round
As per ICC T20 World Cup 2020 groups, a total of 6 nations will get to play in qualifiers of the World Cup, which will be divided into two groups. In Group A, 3 teams will deliver their performance along with Sri Lanka, while in Group B, the remaining three teams will play alongside Bangladesh. The tournament's Super 12 round will have the top two teams in each group. Following this, the top two winners of each group will proceed to the semi-finals to secure its place in the final, which is set to be played at MCG on November 15th.
According to recent reports, ICC Chief Executive David Richardson said that whenever they host an event in Australia, they are confident that one billion cricket enthusiasts around the globe will be treated to a spectacular show- be it in the form of the world's best players, superb venues, passionate fans, and so on. He believes that this is the perfect combination for a T20 World Cup and in 2020, they will take it a few notches higher with two T20 World Cups in a year.
However, it came as a surprise that the Indian National Cricket Team and Pakistan Team were not named in the same groups of the ICC T20 World Cup 2020 fixtures by the International Cricket Council.
Also Read: ICC Women's T20 World Cup 2020 Schedule
ICC T20 World 2020 Teams
There are 16 teams participating in the ICC Men's T20 World 2020. Check out the below given all the 6 teams who were taking part in T20 World 2020:-
Afghanistan
Australia
Bangladesh (have to play qualify match)
England
India
Ireland
Namibia
Netherlands
New Zealand
Oman
Pakistan
Papua New Guinea
Scotland
South Africa
Sri Lanka (have to play qualify match)
West Indies
ICC T20 World Cup 2020 Schedule
T20 World Cup 2020 First Round Fixtures
October 18, 2020: Sri Lanka vs. Qualifier A3, Kardinia Park, South Geelong (8.30 AM IST)
October 18: Qualifier A2 vs. Qualifier A4, Kardinia Park, South Geelong (1:30 PM IST)
October 19: Bangladesh vs. Qualifier B3, Bellerive Oval, Tasmania (8.30 AM IST)
October 19: Qualifier B2 vs. Qualifier B4, Bellerive Oval, Tasmania (1:30 PM IST)
October 20: Qualifier A3 vs. Qualifier A4, Kardinia Park, South Geelong (8.30 AM IST)
October 20: Sri Lanka vs. Qualifier A2, Kardinia Park, South Geelong (1:30 PM IST)
October 21: Qualifier B3 vs. Qualifier B4, Bellerive Oval, Tasmania (8.30 AM IST)
October 21: Bangladesh vs. Qualifier B2, Bellerive Oval, Tasmania (1:30 PM IST)
October 22: Qualifier A2 vs. Qualifier A3, Kardinia Park, South Geelong (8.30 AM IST)
October 22: Sri Lanka vs. Qualifier A4, Kardinia Park, South Geelong (1:30 PM IST)
October 23: Qualifier B2 vs. Qualifier B3, Bellerive Oval, Tasmania (8.30 AM IST)
October 23: Bangladesh vs. Qualifier B4, Bellerive Oval, Tasmania (1:30 PM IST)
ICC T20 World Cup 2020 Groups:
Group 1: Pakistan, Australia, West Indies, New Zealand, Group-A Team 1, Group-B Team 2
Group 2: India, England, South Africa, Afghanistan, Group-B Team 1, Group-A Team 2
T20 World Cup 2020 Super 12 Fixtures:
October 24: Australia vs. Pakistan, Sydney Cricket Ground, Sydney (1:30 PM IST)
October 24: India vs. South Africa, Perth Stadium, Perth (4.30 PM IST)
October 25: A1 vs. B2, Blundstone Arena, Hobart (8.30 AM IST)
October 25: New Zealand vs. Windies, Melbourne Cricket Ground, Melbourne (1.30 PM IST)
October 26: Afghanistan vs. A2, Perth Stadium, Perth (11.30 AM IST)
October 26: England vs. B1, Perth Stadium, Perth (4.30 PM IST)
October 27: New Zealand vs. B2, Blundstone Arena, Hobart (1.30 PM IST)
October 28: Afghanistan vs. B1, Perth Stadium, Perth (11.30 AM IST)
October 28: Australia vs. Windies, Perth Stadium, Perth (4.30 PM IST)
October 29: Pakistan vs. A1, Sydney Cricket Ground, Sydney (8.30 AM IST)
October 29: India vs. A2, Melbourne Cricket Ground, Melbourne (1.30 PM IST)
October 30: England vs. South Africa, Sydney Cricket Ground, Sydney (1.30 PM IST)
October 30: Windies vs. B2, Perth Stadium, Perth (4.30 PM IST)
October 31: Pakistan vs. New Zealand, Brisbane Cricket Ground, Brisbane (9.30 AM IST)
October 31: Australia vs. A1, Brisbane Cricket Ground, Brisbane (2.30 PM IST)
November 1: South Africa vs. Afghanistan, Adelaide Oval, Adelaide (9.00 AM IST)
November 1: India vs. England, Melbourne Cricket Ground, Melbourne (1.30 PM IST)
November 2: A2 vs. B1, Sydney Cricket Ground, Sydney (8.30 AM IST)
November 2: New Zealand vs. A1, Brisbane Cricket Ground, Brisbane (2.30 PM IST)
November 3: Pakistan vs. Windies, Adelaide Oval, Adelaide (9.00 AM IST)
November 3: Australia vs. B2, Adelaide Oval, Adelaide (2.00 PM IST)
November 4: England vs. Afghanistan, Brisbane Cricket Ground, Brisbane (2.30 PM IST)
November 5: South Africa vs. A2, Adelaide Oval, Adelaide (9.00 AM IST)
November 5: India vs. B1, Adelaide Oval, Adelaide (2.00 PM IST)
November 6: Pakistan vs. B2, Melbourne Cricket Ground, Melbourne (8.30 AM IST)
November 6: Australia vs. New Zealand, Melbourne Cricket Ground, Melbourne (1.30 PM IST)
November 7: England vs. A2, Adelaide Oval, Adelaide (9.00 AM IST)
November 7: Windies vs. A1, Melbourne Cricket Ground, Melbourne (1.30 PM IST)
November 8: South Africa vs. B1, Sydney Cricket Ground, Sydney (8.30 AM IST)
November 8: India vs. Afghanistan, Sydney Cricket Ground, Sydney (1.30 PM IST)
Semi-finals:
November 11: To be played at Sydney Cricket Ground, Sydney (1.30 PM IST)
November 12: To be played at Adelaide Oval, Adelaide (2.00 PM IST)
Final:
November 15: To be played at Melbourne Cricket Ground, Melbourne. (1.30 PM IST)