ICC Mens T20 World Cup Qualifier 2019 Schedule, Teams, Points Table and Results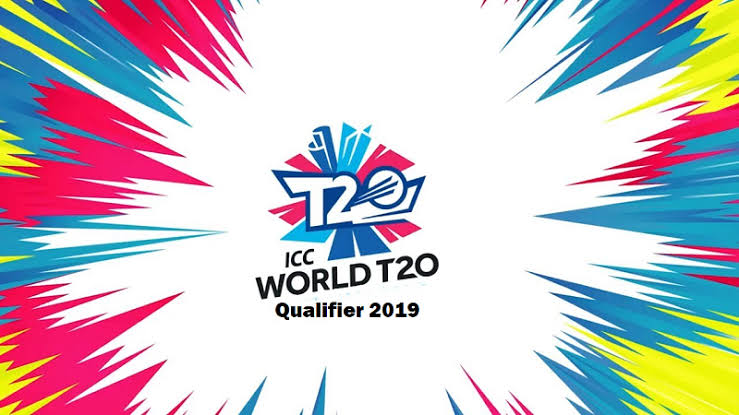 The ICC Mens T20 World Cup Qualifier 2019 has already got off to a roaring start with several high-voltage games being played already and many more exciting ones in the offing as well. Papua New Guinea is currently the star team of the tournament, having secured a position at the ICC Mens T20 World Cup 2020 which will be played in Australia. This is the first time that this team will be taking part in any World Cup tournament across formats.
Papua New Guinea has already trounced Kenya by around 45 runs in an exciting match in the morning held on 27th October and with the Netherlands not winning against Scotland, PNG will be readily booking their passage to the premier tournament in Australia next year. PNG were on top for Group A with a superior run rate in comparison to Netherlands at second position.
More Results
Ireland defeated Nigeria by 8 wickets thanks to a four wicket haul by Craig Young, their medium-pace bowler. Nigeria were kept down to only 66 runs in 20 overs for the loss of 9 wickets and Young claimed 4/13 while Ireland chased down the total in only 6.1 overs with 32 runs off 17 balls being bludgeoned by Kevin O'Brien who opened the innings. Nigeria only had Joseph Adedeji (19 not out) and Isaac Okpe (14 runs) putting up a partnership of 24 runs for the 6th wicket and all the others fell in succession. Nigeria have not won any game out of 5 in all while Ireland remain on top with 4 victories in their 6 matches.
Netherlands and Bermuda faced off with the former winning comfortably by 92 runs courtesy 50s from Ben Cooper and Max O'Dowd. Netherlands put up 206/3 with both O'Dowd and Cooper making 58 runs each. Bermuda could only score 114/9. Ryan ten Doeschate also scored a quick-fire 28 runs off 18 balls while Colin Ackermann made 43 runs off 18 balls for Netherlands. Bermuda only had Kamau Leverock making 31 runs off 15 balls. Paul van Meekeren picked up 3/26 for Netherlands.
Also Read: List of ICC T20 Cricket World Cup Winners
ICC Mens T20 World Cup Qualifier Schedule & Results
Oct 18, Fri
Scotland vs. Singapore, 1st Match, Group A
ICC Academy, Dubai
Singapore won by 2 runs
11:30 AM
06:00 AM GMT / 10:00 AM LOCAL
Hong Kong vs. Ireland, 2nd Match, Group B
Sheikh Zayed Stadium, Abu Dhabi
Ireland won by 8 wkts
3:40 PM
10:10 AM GMT / 02:10 PM LOCAL
Netherlands vs. Kenya, 3rd Match, Group A
ICC Academy, Dubai
Netherlands won by 30 runs
3:40 PM
10:10 AM GMT / 02:10 PM LOCAL
United Arab Emirates vs. Oman, 4th Match, Group B
Sheikh Zayed Stadium, Abu Dhabi
Oman won by 7 wkts
9:00 PM
03:30 PM GMT / 07:30 PM LOCAL
Oct 19, Sat
Papua New Guinea vs. Bermuda, 5th Match, Group A
ICC Academy, Dubai
Papua New Guinea won by 10 wkts
11:30 AM
06:00 AM GMT / 10:00 AM LOCAL
Scotland vs. Kenya, 8th Match, Group A
ICC Academy Ground No 2, Dubai
Scotland won by 31 runs
3:40 PM
10:10 AM GMT / 02:10 PM LOCAL
Netherlands vs. Namibia, 7th Match, Group A
ICC Academy, Dubai
Netherlands won by 44 runs
3:40 PM
10:10 AM GMT / 02:10 PM LOCAL
Jersey vs. Nigeria, 6th Match, Group B
Sheikh Zayed Stadium, Abu Dhabi
Jersey won by 69 runs
3:40 PM
10:10 AM GMT / 02:10 PM LOCAL
United Arab Emirates vs. Ireland, 9th Match, Group B
Sheikh Zayed Stadium, Abu Dhabi
United Arab Emirates won by 5 wkts
9:00 PM
03:30 PM GMT / 07:30 PM LOCAL
Oct 20, Sun
Papua New Guinea vs. Namibia, 10th Match, Group A
ICC Academy Ground No 2, Dubai
Papua New Guinea won by 81 runs
11:30 AM
06:00 AM GMT / 10:00 AM LOCAL
Canada vs. Jersey, 11th Match, Group B
Sheikh Zayed Stadium Nursery 1, Abu Dhabi
Canada won by 53 runs
11:30 AM
06:00 AM GMT / 10:00 AM LOCAL
Hong Kong vs. Oman, 13th Match, Group B
Sheikh Zayed Stadium, Abu Dhabi
Oman won by 7 wkts
3:40 PM
10:10 AM GMT / 02:10 PM LOCAL
Bermuda vs. Singapore, 12th Match, Group A
ICC Academy Ground No 2, Dubai
Singapore won by 5 wkts
3:40 PM
10:10 AM GMT / 02:10 PM LOCAL
Oct 21, Mon
Scotland vs. Papua New Guinea, 14th Match, Group A
ICC Academy, Dubai
Scotland won by 4 runs
11:30 AM
06:00 AM GMT / 10:00 AM LOCAL
United Arab Emirates vs. Hong Kong, 15th Match, Group B
Sheikh Zayed Stadium, Abu Dhabi
United Arab Emirates won by 8 wkts
3:40 PM
10:10 AM GMT / 02:10 PM LOCAL
Ireland vs. Oman, 16th Match, Group B
Sheikh Zayed Stadium Nursery 1, Abu Dhabi
Ireland won by 35 runs
3:40 PM
10:10 AM GMT / 02:10 PM LOCAL
Kenya vs. Bermuda, 17th Match, Group A
ICC Academy, Dubai
Kenya won by 46 runs
3:40 PM
10:10 AM GMT / 02:10 PM LOCAL
Canada vs. Nigeria, 18th Match, Group B
Sheikh Zayed Stadium, Abu Dhabi
Canada won by 50 runs
9:00 PM
03:30 PM GMT / 07:30 PM LOCAL
Oct 22, Tue
Scotland vs. Namibia, 19th Match, Group A
ICC Academy, Dubai
Namibia won by 24 runs
11:30 AM
06:00 AM GMT / 10:00 AM LOCAL
Singapore vs. Netherlands, 20th Match, Group A
ICC Academy, Dubai
Netherlands won by 5 wkts
3:40 PM
10:10 AM GMT / 02:10 PM LOCAL
United Arab Emirates vs. Jersey, 21st Match, Group B
Sheikh Zayed Stadium Nursery 1, Abu Dhabi
Jersey won by 35 runs
3:40 PM
10:10 AM GMT / 02:10 PM LOCAL
Oct 23, Wed
Namibia vs. Bermuda, 22nd Match, Group A
ICC Academy Ground No 2, Dubai
Namibia won by 6 wkts
11:30 AM
06:00 AM GMT / 10:00 AM LOCAL
Oman vs. Nigeria, 23rd Match, Group B
Sheikh Zayed Stadium Nursery 1, Abu Dhabi
Oman won by 7 wkts
11:30 AM
06:00 AM GMT / 10:00 AM LOCAL
Singapore vs. Kenya, 24th Match, Group A
ICC Academy Ground No 2, Dubai
Kenya won by 7 wkts
3:40 PM
10:10 AM GMT / 02:10 PM LOCAL
Ireland vs. Canada, 25th Match, Group B
Sheikh Zayed Stadium, Abu Dhabi
Canada won by 10 runs
3:40 PM
10:10 AM GMT / 02:10 PM LOCAL
Hong Kong vs. Jersey, 26th Match, Group B
Sheikh Zayed Stadium, Abu Dhabi
Hong Kong won by 8 runs
9:00 PM
03:30 PM GMT / 07:30 PM LOCAL
Oct 24, Thu
Netherlands vs. Papua New Guinea, 27th Match, Group A
ICC Academy, Dubai
Papua New Guinea won by 5 wkts
11:30 AM
06:00 AM GMT / 10:00 AM LOCAL
United Arab Emirates vs. Nigeria, 28th Match, Group B
Sheikh Zayed Stadium Nursery 1, Abu Dhabi
United Arab Emirates won by 5 wkts
11:30 AM
06:00 AM GMT / 10:00 AM LOCAL
Hong Kong vs. Canada, 29th Match, Group B
Sheikh Zayed Stadium Nursery 1, Abu Dhabi
Hong Kong won by 32 runs
3:40 PM
10:10 AM GMT / 02:10 PM LOCAL
Scotland vs. Bermuda, 30th Match, Group A
ICC Academy, Dubai
Scotland won by 46 runs
9:00 PM
03:30 PM GMT / 07:30 PM LOCAL
Oct 25, Fri
Papua New Guinea vs. Singapore, 31st Match, Group A
Dubai International Cricket Stadium, Dubai
Papua New Guinea won by 43 runs
11:30 AM
06:00 AM GMT / 10:00 AM LOCAL
Ireland vs. Jersey, 32nd Match, Group B
Sheikh Zayed Stadium Nursery 1, Abu Dhabi
Ireland won by 8 wkts
11:30 AM
06:00 AM GMT / 10:00 AM LOCAL
Namibia vs. Kenya, 33rd Match, Group A
Dubai International Cricket Stadium, Dubai
Namibia won by 87 runs
3:40 PM
10:10 AM GMT / 02:10 PM LOCAL
Oman vs. Canada, 34th Match, Group B
Sheikh Zayed Stadium, Abu Dhabi
Oman won by 8 wkts
9:00 PM
03:30 PM GMT / 07:30 PM LOCAL
Oct 26, Sat
Ireland vs. Nigeria, 35th Match, Group B
Sheikh Zayed Stadium, Abu Dhabi
Ireland won by 8 wkts
11:30 AM
06:00 AM GMT / 10:00 AM LOCAL
Netherlands vs. Bermuda, 36th Match, Group A
Dubai International Cricket Stadium, Dubai
Netherlands won by 92 runs
3:40 PM
10:10 AM GMT / 02:10 PM LOCAL
Namibia vs. Singapore, 37th Match, Group A
Dubai International Cricket Stadium, Dubai
Namibia won by 87 runs
9:00 PM
03:30 PM GMT / 07:30 PM LOCAL
Oct 27, Sun
Hong Kong vs. Nigeria, 39th Match, Group B
Sheikh Zayed Stadium Nursery 1, Abu Dhabi
Hong Kong won by 5 wkts
11:30 AM
06:00 AM GMT / 10:00 AM LOCAL
Papua New Guinea vs. Kenya, 38th Match, Group A
Dubai International Cricket Stadium, Dubai
Papua New Guinea won by 45 runs
11:30 AM
06:00 AM GMT / 10:00 AM LOCAL
Oman vs. Jersey, 40th Match, Group B
Sheikh Zayed Stadium, Abu Dhabi
Jersey won by 14 runs
3:40 PM
10:10 AM GMT / 02:10 PM LOCAL
Scotland vs. Netherlands, 41st Match, Group A
Dubai International Cricket Stadium, Dubai
Netherlands won by 4 wkts
3:40 PM
10:10 AM GMT / 02:10 PM LOCAL
United Arab Emirates vs. Canada, 42nd Match, Group B
Sheikh Zayed Stadium, Abu Dhabi
United Arab Emirates won by 14 runs
9:00 PM
03:30 PM GMT / 07:30 PM LOCAL
ICC Mens T20 World Cup Qualifier 2019 – Points Table (Group A)
| | | | | | | | |
| --- | --- | --- | --- | --- | --- | --- | --- |
| Group A | M | W | L | T | NR | Pts | NRR |
| Papua New Guinea | 6 | 5 | 1 | 0 | 0 | 10 | 2.086 |
| Netherlands | 6 | 5 | 1 | 0 | 0 | 10 | 1.776 |
| Namibia | 6 | 4 | 2 | 0 | 0 | 8 | 1.08 |
| Scotland | 6 | 3 | 3 | 0 | 0 | 6 | 0.258 |
| Kenya | 6 | 2 | 4 | 0 | 0 | 4 | -1.156 |
| Singapore | 6 | 2 | 4 | 0 | 0 | 4 | -1.375 |
| Bermuda | 6 | 0 | 6 | 0 | 0 | 0 | -2.848 |
ICC Mens T20 World Cup Qualifier 2019 – Points Table (Group B)
| | | | | | | | |
| --- | --- | --- | --- | --- | --- | --- | --- |
| Group B | M | W | L | T | NR | Pts | NRR |
| Ireland | 6 | 4 | 2 | 0 | 0 | 8 | 2 |
| Oman | 6 | 4 | 2 | 0 | 0 | 8 | 1 |
| United Arab Emirates | 6 | 4 | 2 | 0 | 0 | 8 | 1 |
| Hong Kong | 6 | 3 | 3 | 0 | 0 | 6 | 0 |
| Canada | 6 | 3 | 3 | 0 | 0 | 6 | 0 |
| Jersey | 6 | 3 | 3 | 0 | 0 | 6 | 0 |
| Nigeria | 6 | 0 | 6 | 0 | 0 | 0 | -5 |
Upcoming Fixtures:
Oct 29, Tue
Netherlands vs. United Arab Emirates, Play off 1 – A2 v B3
Dubai International Cricket Stadium, Dubai
3:40 PM
10:10 AM GMT / 02:10 PM LOCAL
Namibia vs. Oman, Play off 2 – A3 v B2
Dubai International Cricket Stadium, Dubai
9:00 PM
03:30 PM GMT / 07:30 PM LOCAL
Oct 30, Wed
Scotland vs. TBC, Play off 3 – A4 v Loser of Play-off 1
Dubai International Cricket Stadium, Dubai
3:40 PM
10:10 AM GMT / 02:10 PM LOCAL
Hong Kong vs. TBC, Play off 4 – B4 v Loser of Play-off 2
Dubai International Cricket Stadium, Dubai
9:00 PM
03:30 PM GMT / 07:30 PM LOCAL
Oct 31, Thu
TBC vs. TBC, 5th Place Play-off
ICC Academy, Dubai
3:40 PM
10:10 AM GMT / 02:10 PM LOCAL
Nov 01, Fri
Ireland vs. TBC, Semifinal 1 – B1 v Winner of Play-off 1
Dubai International Cricket Stadium, Dubai
3:40 PM
10:10 AM GMT / 02:10 PM LOCAL
Papua New Guinea vs. TBC, Semifinal 2 – A1 v Winner of Play-off 2
Dubai International Cricket Stadium, Dubai
9:00 PM
03:30 PM GMT / 07:30 PM LOCAL
Nov 02, Sat
TBC vs. TBC, 3rd place Play off
Dubai International Cricket Stadium, Dubai
3:40 PM
10:10 AM GMT / 02:10 PM LOCAL
TBC vs. TBC, Final
Dubai International Cricket Stadium, Dubai
9:00 PM
03:30 PM GMT / 07:30 PM LOCAL