Goodbye Champ! Dwayne Bravo Retires From International Cricket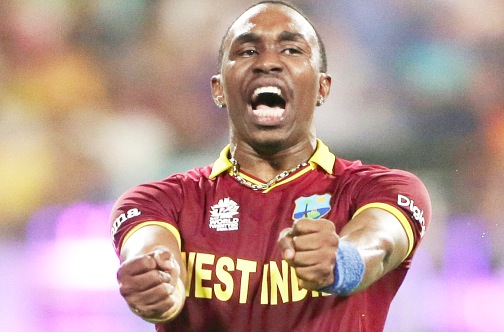 West Indies all-rounder Dwayne Bravo brought the curtains down on his glorious international career by announcing retirement from all forms of the game. However, the decorated cricketer mentioned that he would continue to play T20 franchise cricket across the globe.
The 35-year-old made his international debut back in 2004 and since then, has gone on to represent the West Indies in 40 Tests, 164 ODIs and 66 T20Is. The Trinidadian born cricketer was a vital cog in the Windies middle order for years, owing to his explosive batting and clever yet astute bowling. For someone who boasts a physique of an athlete, one can boldly state that he is an outstanding fielder as well.
Despite his all-round prowess, Bravo hasn't made a Test appearance for West Indies since 2010, while his last ODI was in 2014. The all-rounder fell out of favour after he was the central figure in the West Indies pulling out halfway through their India tour in 2014, following a payment dispute with the West Indies Cricket Board (WICB). That ODI in Dharamsala, till date remains his last in the Windies maroon.
"Today I want to confirm to the cricket world that I have officially retired from international cricket in all formats of the game. After 14 years when I made my debut for the West Indies, I still remember that moment I received the maroon cap before walking onto the Lords Cricket Ground against England in July 2004. The enthusiasm and passion I felt then, I have kept with me throughout my career," Bravo said.
He remarked that it is the right time for him to pass the baton to the younger boys in the team. "However, I must accept that for me to preserve my longevity as a professional cricketer, I must do as others before have done, leave the international arena for the next generation of players." He further added: "I thank the countless persons who were instrumental to my success, particularly my family and QPCC where I developed my skills at an early age. I thank the many loyal fans who continue to support my journey and who recognize my efforts on and off the field. I am extremely fortunate to have a career that has taken me across the globe into the most prestigious dressing rooms sharing experiences with all the recent legends of this glorious game. I will continue my professional career as a cricketer and entertainer living as a true champion."
Bravo has ended his career with 6,310 runs and 337 wickets across all formats in international cricket. He will be well remembered for his role in both the World T20 triumphs, 2012 and 2016 for the West Indies. We will witness his all-round abilities next in the forthcoming T20 extravaganza, the Big Bash League (BBL), based in Australia in December.