Everest Premier League (EPL) 2020 Schedule, Teams, Squads and Players List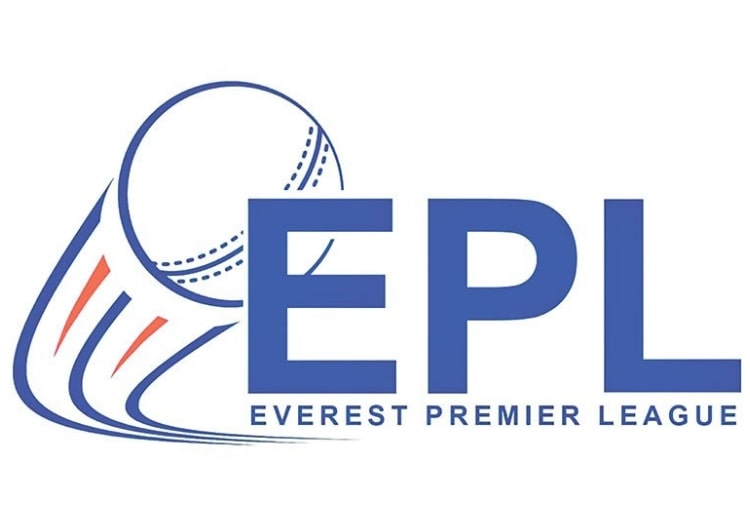 Everest Premier League 2020 Schedule
The 2020 Everest Premier League or EPL4 will be the 4th edition of the star-studded Twenty20 cricket tournament in Nepal. The tournament was initially supposed to be conducted between the 8th of December and 22nd of December, 2019 although the dates were later rescheduled. It was rescheduled to begin on 29 February 2020 and will end on 14 March 2020, but was rescheduled again, now its beginning from 14 March 2020 and ending on 28 March 2020. The defending champions are Lalitpur Patriots who won their first trophy in 2018.
Everest Premier League 2020 Important Details
EPL 2020 Details
Host Country
Nepal 
Time
14th March, 2020 to 28th March, 2020
Final
28th March, 2020 
Tournament Format
Single round-robin and playoffs 
Total Teams
6
Total Number of Matches
19
Most Successful Team
Lalitpur Patriots, Panchakanya Tej and Biratnagar Warriors (1 title each)
Venue
Tribhuvan University International Cricket Ground, Kathmandu
Everest Premier League (EPL) 2020 Teams
Bhairahawa Gladiators
Biratnagar Warriors
Kathmandu Kings XI
Chitwan Tigers
Pokhara Rhinos
Lalitpur Patriots
Also Read: Dhangadhi Premier League 2020
EPL 2020 Players List
This year many famous international cricketers have been roped by the franchises for EPL T20 2020. The Everest Premier League foreign players list include many big names lik Chris Gayle (West Indies), Hashim Amla (South Africa), Dwayne Smith (West Indies), Mohammad Shahzad (Afghanistan) and Kevin O'Brien (Ireland) .
Former West Indies cricketer Dwayne Smith is set to play for the Bhairahawa Gladiators while Greatest T20 batsman Universal Boss (Chris Gayle) will set to play for Pokhara Rhinos in the 2020 Everest Premier League.
Everest Premier League 2020 Squads
Bhairahawa Gladiators Squad
Dwayne Smith, Pradeep Airee, Sharad Vesawkar, Aarif Sheikh, Rohit Kumar, Abinash Bohara, Bhuwan Karki, Rohit Kumar Paudel, Kushal Malla, Krishna Karki, Bikash Agri, Dipesh Shrestha, Himanshu Dutta, Harishankar Shah.
Biratnagar Warriors Squad
Paras Khadka, Karan KC, Basant Regmi, Anil Sah, Aasif Sheikh, Sumit Maharjan, Hari Bahadur Chauhan, Ramnaresh Giri, Saurav Khanal, Bikram Kumar Bhusal, Anil Kharel.
Chitwan Tigers Squad
Mohammad Shahzad, Dilip Nath, Lalit Bhandari, Sompal Kami, Bhim Sharki, Sandeep Sunar, Ishan Pandey, Shahab Alam, Kamal Singh Airee, Sagar Dhakal, Khadak Bohara, Aadil Khan.
Kathmandu Kings XI Squad
Kevin O'Brien, Sandeep Lamichhane, Dipendra Singh Airee, Jitendra Mukhiya, Raju Rijal, Amrit Bhattarai, Subash Khakurel, Md Samsad Sheikh, Amit Shrestha, Sher Mall, Amar Singh Routela, Dipendra Rawat, Akash Chand.
Lalitpur Patriots Squad
Upul Tharanga, Gyanendra Mall, Pawan Sarraf, Lalit Rajbanshi, Kushal Bhurtel, Sundeep Jora, Sonu Tamang, Shankar Rana, Rasid Khan, Narayan Joshi, Yogendra Singh Karki, Surya Tamang.
Pokhara Rhinos Squad
Chris Gayle, Hashim Amla, Prithu Baskota, Binod Bhandari, Sushan Bhari, Sunil Dhamala, Bikram Sob, Kishore Mahato, Rit Gautam, Bipin Khatri, Nandan Yadav, Lokesh Bam, Bipin Rawal, Dev Shah, Bibek Kumar Yadav.