England vs West Indies 1st Test Day 1 highlights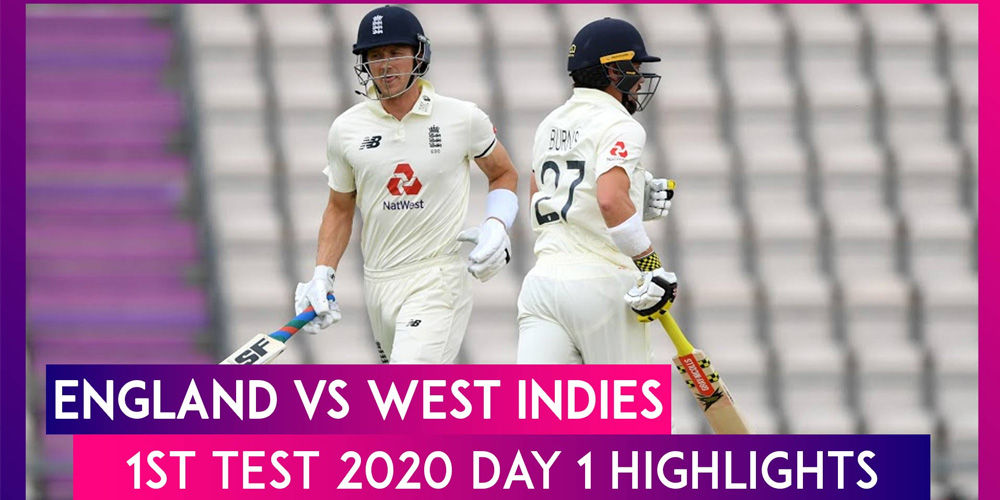 Rain and bad light forced the umpires to call for stumps on Day 1 of the first England vs West Indies Test match at the Ageas Bowl in Southampton. Joe Denly and Rory Burns took England to 35 for 1 at Tea but play never resumed after that. Shannon Gabriel had cleaned up England opener Sibley for a duck .A light drizzle had forced the players go off after the first three overs and when they returned after 15-20 minutes the rain allowed just 7 balls before again interrupting proceedings.
Earlier,England captain Ben Stokes won the toss and opted to bat first Rain and wet outfield had forced the umpires to call for an early lunch But now finally the wait has ended. International cricket is returning after a gap of more than three months.
Follow updates of England vs West Indies 1st Test Day 1:
22:45 hrs: STUMPS on Day 1! Rain has had the final say at the Ageas Bowl today. It allowed only 106 balls of play and in that England reached 35 for 1 with Joe Denly (14) and Rory Burns (20) staying holding fort after the early loss of opener Dom Sibley for nought.
22:40 hrs: We are 10 minutes past scheduled closing time at Ageas Bowl, there has been no official word from the umpires yet about resumption of play and it looks like there won't be one. The next update we get might well be that of close of play.
22:05 hrs: No improvements in the conditions here. I'm afraid this might be it. Only 106 balls have happened today it was the rain all day along and now it is the degrading light.
21:35 hrs: Weather update! It's still raining at Ageas Bowl, one fears this might just be the end of Day 1 in the England vs West Indies first Test match.
21:20 hrs: Not the greatest of news! The covers are on at the moment, the umpires are out there with umbrellas and even thought the rain doesn't look heavy at all, it does look another stoppage of play.
20:58 hrs: Tea at Day 1! Umpires have called for Tea with England at 35 for 1. Joe Denly (14) and Rory Burns (20) have looked comfortable after the early burst from the West Indies pacers.
20:50 hrs: Back-to-back maidens! One from Holder and another one from Joseph. This is good from West Indies. It had just started to look they have let the foot off the paddle. England 34/1 after 16 overs.
20:40 hrs: FOUR! Another loose delivery from Joseph. Burns just strokes it through the cover region and it races away to the fence. The pressure has come off from the England batsmen.
20:37 hrs: A double bowling change for West Indies Jason Holder now replaces Kemar Roach and concedes 2 runs from his first over. England 30/1 after 13 overs.
20:30 hrs: FOUR! That's a loosener from Alzarri Joseph right at the start of his spell. It sat-up there to be hit and urns just clips it off his pads to collect his second boundary, this England pair is suddenly looking a lot more comfortable out in the middle. England 25/1 after 11.1 overs.
20:22 hrs: Consecutive fours! The first one was dealt with full authority from Denly but the next one was a streaky outside edge throught the fourth slip area but he will take it nonetheless.
20:15 hrs: FOUR! Short and wide from Gabriel and Denly after worked up by Roach all this while, lashes on to it in a flash to collect his first boundary. England 12/1 after 8 overs.
20:10 hrs: Another maiden! Roach is really giving a hard time to Joe Denly but credit to the right-hander for being patient and hanging in there.
20:07 hrs: FOUR! First boundary of the Test match and it comes from Burns' bat. Gabriel strays down the leg side ever so slightly and Burns clips it off his pads throught the vacant mid-wicket region to collect his and England's first boundary. England 7/1 after 6 overs.
20:02 hrs: Roach has been superb since the morning. no room whatsoever to Denly, another maiden. England 3/1 after 5 overs.
19:59 hrs: Denly is marking up and Roach is at the top of his run up as we gear-up for resumption of play.
19:55 hrs: There has been a loss of 10 more overs so we now have 53 overs of play remaining today and hopefully, we will get those completed if the rain stays away.
19:50 hrs: Play will resume at 8:00 pm IST and hopefully it will continue till the close of play without further rain interruptions.
19:20 hrs: THE COVERS ARE BACK! We just had one seven balls and the players have been forced to scamper back to the dressing room again. This is getting really frustrating now and what's worse, the rain appears to be heavy than the last time.
19:13 hrs: The players are back on the filed. It will be Shannon Gabriel with the fourth over of the innings.
16:52 hrs: The rain is not heavy at all. The groundstaff have kept just the main cover on to keep the pitch safe. Hopefully, the umpires will ask the players to return soon.
16:47 hrs: THE RAIN IS BACK! Would you believe it? Just three overs into the Test match, the rain is back and the umpires have decided not take chances and have called for covers. West Indies won't be a happy side as Gabriel and Roach were all over the England batsmen.
16:45 hrs: First runs for England! Is it off the pad or Burns had a tickle? The umpires get together give it as runs. So Burns and England are off the mark in the 3rd over. England 1/1 after 3 overs.
16:39 hrs: BOWLED! A beauty from Gabriel! The previous one had just held its line to beat Sibley all ends up and the next one came back in sharply from the same length, Sibley shouldered his arms and it clipped the top of off stump. Gabriel strikes in his fourth ball. Sibley goes for a duck. England 0/1 after opting to bat first.
16:37 hrs: MAIDEN! A very good over to start from Kemar Roach, he was on target on all six occasions. England 0/0 after 1 over.
16:34 hrs: Umpire's call! Burns survives but West Indies retains the review. Action as early as the third ball! Kemar Roach brings it back from a good length, Burns leaves it and it just clips his back pads and goes to the keeper. Roach manages to convince Jason Holder to go for a review and he agrees. Remember, they have three reviews now because of the new ICC rule change.
16:32 hrs: The umpire says play and the first ball from Kemar Roach has been dealt with a forward defence by England opener Rory Burns. Boy! Did that grunt from the bowler and the sound off the bat feel good. Cricket is finally back!
16:28 hrs: The players of both sides are observing a minute's silence to show solidarity with the passing away of West Indies legend Everton Weekes.
16:25 hrs: "Not too disheartened with bowling first. Will look to make use of these conditions. We've got four quicks. Got Chase as a spin bowling option. Discipline's the name of the game. Been little strange. Haven't been able to move out of the hotel. It is what it is. Preparation's been good," said West Indies captain Jason Holder.
16:20 hrs: "Overhead conditions didn't change our perception. Looks dry on top. Won't have too much pace in it. Recently spin's come into it. Tough decision with Broad and Woakes. But we feel that we can have an extra dimension with the pace of Wood and Archer, said England captain Ben Stokes.
16:12 hrs: Here's what transpired at the toss, Jason Holder almost forgot the no handshake custom.
16:09 hrs: West Indies (Playing XI) – John Campbell, Kraigg Brathwaite, Shamarh Brooks, Shai Hope, Roston Chase, Jermaine Blackwood, Shane Dowrich(w), Jason Holder(c), Alzarri Joseph, Kemar Roach, Shannon Gabriel
16:05 hrs:England (Playing XI) – Rory Burns, Dominic Sibley, Joe Denly, Zak Crawley, Ben Stokes(c), Ollie Pope, Jos Buttler(w), Dominic Bess, Jofra Archer, Mark Wood, James Anderson.
16:00 hrs:TOSS UPDATE! England won the toss and opted to bat first against West Indies.
17:48 hrs: More good news,the toss will take place at 1:30 pm local time, which is 6 pm IST. The first ball of the England vs West Indies first Test will be bowled at 6:30 pm IST.
17:43 hrs: The covers are coming off! This is great news coming from Southampton. The rain has gone away now and we could be minutes away from the toss. The groundsmen have done a terrific job.
17:16 hrs: Amid all the gloomy weather, here is some good news. England's regular skipper Joe Root's wife Carries his given birth to their second child. This also means, Root might just be able to make it for the second Test match of this series.
17:00 hrs: Lunch has been taken on Day 1 of the ENG vs WI first Test match at the Ageas Bowl in Southampton, 30 minutes before scheduled time as the wait for toss continues. At first the toss was delayed due to light rain, right now the rain has stopped but the covers are still on. The wet outfield has forced the umpires to call for an early lunch. The next inspection will be at 1:10 pm local time, which means at 5:40 pm IST.
16:37 hrs: Right! The word coming out from there is that we might have an early lunch taken in the England vs West Indies first Test at Ageas Bowl in Southampton. The lunch might be taken at 5 pm IST, 30 minutes before the scheduled time.
16:31 hrs: The umpires have just had a conversation with the captains. The covers are still on at Ageas Bowl.
16:20 hrs: Weather Update! It has stopped raining at the Ageas Bowl in Southampton for now, which means we should be able to get close to two sessions of cricket if the weather stays like this in the England vs West Indies first Test match. Fingers crossed!
16:08 hrs: The umpires are on the field! Richard Illingworth, Richard Kettleborough have completed a quick inspection without umbrellas, is that a sign? The covers mind you are still firmly in their place.
16:00 hrs: "History is written by the conqueror and not by the ones who have been conquered. They keep telling me, there's nothing called white privilege, give me a break! Things like this need to stop. Until we educate the entire human race, this thing will not stop," Michael Holding delivers a powerful message on Black Lives Matter in the Sky Sports Broadcast with Nasser Hussain.
15:45 hrs:The covers are coming back! Told ya! Never, I repeat, NEVER trust the English weather. It teases you to the core. The light drizzle is back and the covers are coming back moments after being take off. The wait goes on.
15:43 hrs: Covers are off! The covers are coming off from the square, the rain seems to have gone away for now. But you can never really trust English weather.
15:37 hrs: Wanna know who will conduct today's toss? Well, this doesn't look like Nasser Hussain or Mike Atherton or Ian Bishop but we probably have to adjust to this one too.
15:33 hrs: Weather update! There is not much change in the scenes at the Ageas Bowl for the first ENG vs WI Test match apart from the fact that the rain has probably toned down further. But the umpires have still got their umbrellas out. So we might have to wait for some time more.
15:27 hrs: Broad or Woakes or maybe Wood? England have problems of plenty when it comes to deciding their thrid seamer. James Anderson and Jofra Archer are certain starters but considering the state of the wicket the idea to play four frontline seamers might not cross England's mind. Therefore, it will have to be toss-up between the experienced Braod and the really talented Woakes.
15:15 hrs: Live scenes are not exactly cricket-like but not too gloomy either. Light rain, the covers are on, this is so English, this is what we have been missing. On the cricket front though it shouldn't be too long before we have the toss.
15:00 hrs: TOSS! Sorry, guys have to wait a little bit longer as the toss has been delayed due to rain, as per reports.
14:50 hrs: Massive shout-out to West Indies captain Jason Holder from one of cricket's biggest name Sachin Tendulkar. "Jason Holder is the most under-rated all-rounder, because on the field, maybe you will look at Kemar Roach or Shannon Gabriel, but Jason Holder only when you look at the scoreboard, you realise that he has come in and taken three wickets," Sachin Tendulkar told Brian Lara during the chat on Master Blaster`s app `100 MB`. 
14:40 hrs: Update on weather: "The rain has stayed away so far this morning as the lads make their way to the changing rooms," says England Cricket Board's Twitter handle.
14:30 hrs: England vs West Indies 1st Test in Southampton: Toss in 30 minutes. Stay tuned for more updates.
14:25 hrs: New Rules reminders:
1) No fans in the stadium
2) Bio-secure venues
3) Additional DRS per innings
4) No handshakes
5) Covid-19 replacements
6) No Neutral umpires
7) No saliva on the ball
14:20 hrs: Could rain spoil Test cricket's big return? The weather prediction in Southampton showcases that there are brief rain spells expected in the next three days, and it is expected to remain cloudy. The fans, watching the game from the comforts of their homes, will be hoping they can
14:15 hrs: Several big names from West Indies squad including Darren Bravo and Shimron Hetmyer have decided to not tour England due to fears of Covid-19. England are also without Joe Root. In such a scenario, how will the two teams line-up?
14:10 hrs: Ben Stokes on England's fast-bowling depth: "It's not very often we have been in this situation where we have six or seven bowlers we could choose from. We are in a position now with the Test team like we were with the one-day team in 2015 when we were building for that World Cup. I feel as if we are building for the Ashes in Australia and also India. To have the crop of fast-bowlers we now possess is a great place to be as a Test side."
14:05 hrs: All eyes on Ben Stokes: In the absence of Joe Root, Ben Stokes has been handed Test captaincy role. Can Stokes justify the appointment under pressure? Stokes had a fantastic 2019, in which he led England to World Cup win, and also played splendid innings in the Ashes Test against Australia. But leading the troops is an altogether challenge, and several big names have not been able to live up to the mantle in the past. All the best, Stokesy!
14:00 hrs: Hello and welcome to our live blog on England vs West Indies 1st Test Day 1 at The Ageas Bowl in Southampton. After a wait of almost four months, the cricket returns with exciting prospects. Both the teams will be eager to put on a show, and with no cricket on the surface in the past few months, it is expected to be a hard one. But, in the end, this match will be decided by how quickly the teams and the players adapt to the new rules and regulations approved by the ICC to reduce the risk of Covid-19. Plenty of things to watch out for. Let the action begin!