Dhangadhi Premier League (DPL) 2020 Schedule, Teams and Venues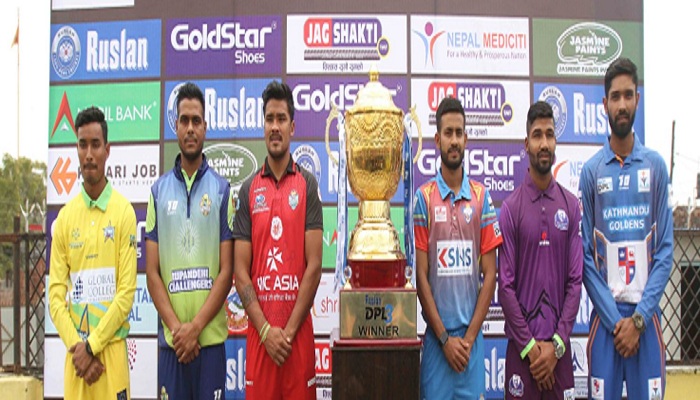 The DPL (Dhangadhi Premier League) is the premier Twenty20 franchise cricket tournament in Nepal and was founded by the Sudur Pashchim Academy and Dhangadhi Cricket Academy in the year 2017. The season for the tournament is mostly between March and April. Each team plays 5 matches in the round-robin format while the top four teams make it to the play-offs. Eventually, two teams face off in the final. Team Chauraha Dhangadhi are the defending champions, having won the titles in 2017 and 2018.
Dhangadhi Premier League (DPL) 2020 Important Details
Dhangadhi Premier League 2020 Details
Host Country
Nepal
Administrator of Tournament
Dhangadhi Cricket Academy 
Format
Round-Robin and Play-off
Total Teams
6 (SIX)
Most Successful Team
Team Chauraha Dhangadhi (2 Titles) 
Most Runs
Paras Khadka (175 runs) from Team Chauraha Dhangadhi
Most Wickets
Sushil Kandel (17 wickets) from Biratnagar Kings 
Venue
Phaple Cricket Stadium at Dhangadhi 
Time
15th February, 2020 to 27th February, 2020 
Dhangadhi Premier League 2020 Teams
Biratnagar Kings
CYC Attariya
Mahendranagar united
Kathmandu Goldens
Dhangadhi Stars
Rupandehi Challengers
Also Read: Everest Premier League 2020
Biratnagar Kings Squad
Karan KC (Captain), Hari Shankar Sah, Arjun Adhikari, Avinash Yadav, Asad Pathan, Kushal Bhurtel, Kishor Mahato, Md. Samsad Sheikh, Mahamad Aasif Sheikh, Rajesh Pulami Magar, Prithu Baskota, Sushan Bhari, Subash Ayer, Trit Raj Das.
CYC Attariya Squad
Dipendra Singh Airee (Captain), Bhuban Karki, Aadil Ansari, Dipendra Rawat, Gyanendra Kunwar, Jaykishan Kolsawala, Jitendra Singh Thakuri, Kamal Singh Airee, Prem Tamang, Khagendra Joshi, Ramnaresh Giri, Rit Gautam, Sundeep Jora, Shubhendu Pandey, Sunny Patel.
Dhangadhi Stars Squad
Sompal Kami (Captain), Amir Hayat, Amit Shrestha, Dhiraj Shahi, Bipin Khatri, Dipesh Shrestha, Krishna Ayer, Hari Bahadur Chauhan, Pawan Sarraf, Robeen Chhetri, Raju Rijal, Sandip Rajali, Rohan Mustafa, Saurabh Khanal, Sunil Dhamala.
Kathmandu Goldens Squad
Gyanendra Mall (Captain), Ankit Dabas, Anil Kumar Sah, Avinav Yadav, Bikram Thagunna, Bikram Kumar Bhusal, Gaurav Tomar, Mahaboob Alam, Lalit Narayan Rajbanshi, Rasid Khan, Nandan Yadav, Sudhir Chaudhary, Sonu Tamang, Yogendra Karki, Surya Tamang.
Mahendranagar United Squad
Sharad Vesawkar (Captain), Avinash Bohora, Amar Singh Routela, Dilip Nath, Deependra Chand, Kushal Malla, Mohammad Naveed, Md Arif Sheikh, Sagar Dhakal, Rohit Kumar Paudel, Shahab Alam, Santosh Bhatta, Siddhant Lohani, Sushil Khadka, Subramanian Anand.
Rupandehi Challengers Squad
Basant Regmi (Captain), Babar Hayat, Anil Kharel, Bhim Sharki, Binod Bhandari, Bikram Sob, Krishna Karki, Pradeep Airee, Lalit Bhandari, Puneet Mehra, Sandeep Sunar, Puran B.K, Sumit Maharjan, Sher Malla, Suraj Darai.