Cricket Fraternity Reacts to New Zealand's "Spirit of Cricket" Act in U-19 World Cup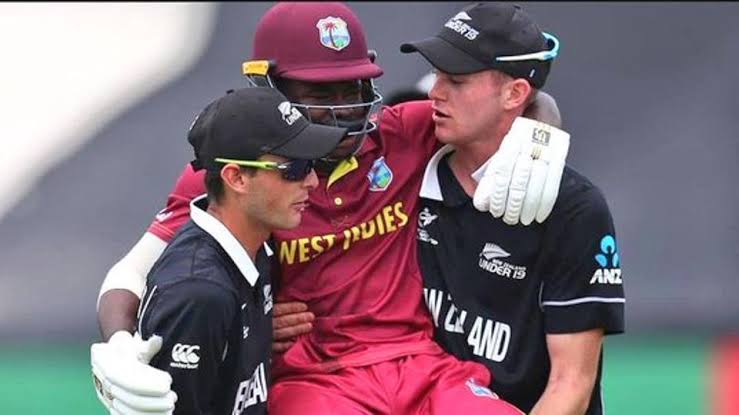 The Kiwi U-19 team displayed yet another "Spirit of Cricket" Act in their U19 fixture against West Indies at Willowmoore Park in South Africa on Wednesday. Doing this, they followed the footsteps of Kane Williamson who himself set an example of the same in the 2019 World Cup final against England which was won by the latter.
The Windies middle-order batsman Kirk McKenzie suffered severe cramps in his leg and was forced to retire hurt on 99. But soon he returned in the middle to face the final 14 deliveries of the innings when West Indies lost their ninth wicket. New Zealand players, Jesse Tashkoff and Joseph Field – earned accolades for their generous act of helping injured West Indies batsman.
Also Read: BBL 09 Knockout: Adelaide Strikers vs Sydney Thunder Preview
While walking back to the pavilion, McKenzie was again struggling with his cramps and looked in serious pain. Seeing that he was struggling to walk, both the Kiwi players, Jesse and Joseph showed a great gesture by carrying him off the ground. The ICC shared a video of the same on their official World Cup Twitter handle.
This beautiful gesture of the Kiwi boys were noticed by cricket fans and experts. The gesture impressed them very much and they reacted to the same and praised both the youngsters on Twitter. Among the ones who lauded the Kiwi youngsters included Sachin Tendulkar and Rohit Sharma including others.
Also Read: IPL 2020 All-Star Match: All Details Revealed
Talking about the match, the young Black Caps managed to stun West Indies despite reeling at 153/8 chasing 239. However, there was a stunning twist to the tale as the ongoing tournament witnessed another surge from the tail-enders. Tailenders Joey Field and Kristian Clarke joined hands to take New Zealand into the semi-finals with just two balls left in the game. Clarke, apart from scoring an unbeaten 46, had also bagged an impressive 4/25 with the ball.