Catch the live score and updates of the Asia Cup 2023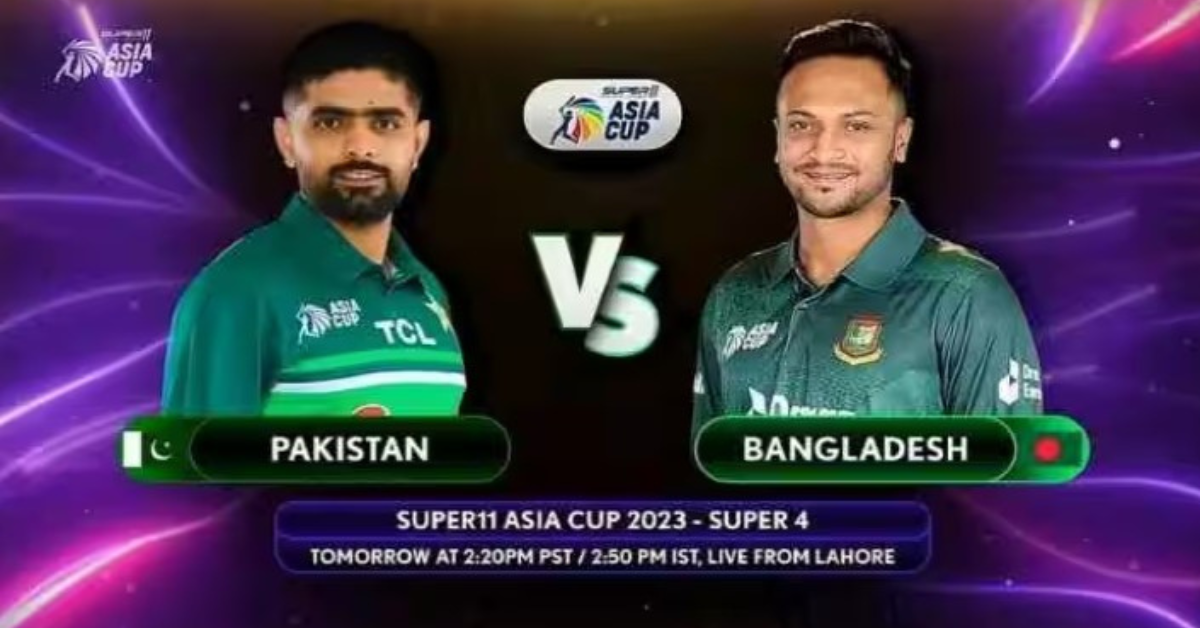 Catch the live score and updates of the Asia Cup 2023
In the Super 4 stage of the Asia Cup 2023, cricket fans were treated to an exciting clash as Pakistan faced off against Bangladesh at the Gaddafi Stadium in Lahore. The match marked the beginning of the Super 4 stage, and both teams were eager to make their mark in the tournament.
Pakistan entered the Super 4 with strong momentum, having secured a massive victory over Nepal and one point from their washed-out game against Team India. They were determined to continue their winning streak and assert their dominance in the competition.
On the other hand, Bangladesh had experienced a mixed start to the tournament. They were initially defeated by Sri Lanka by five wickets in their opening match. However, they bounced back with a vengeance, defeating Afghanistan by a commanding 89 runs to secure their place in the Super 4 stage. This resilient comeback showcased their determination and ability to compete at the highest level.
The clash between Pakistan and Bangladesh carried historical significance, with Pakistan holding a significant advantage in head-to-head encounters. They had emerged victorious in 32 out of the 37 matches against Shakib al Hasan's Bangladesh side. With a strong team and a rich cricketing history, Pakistan was keen to maintain their dominance in this Super 4 clash.
All eyes were on Pakistan's skipper, Babar Azam, a world-class batsman and leader. He aimed to lead his team to victory and set the tone for their Super 4 campaign. Babar Azam's exceptional batting skills and captaincy prowess made him a key figure for Pakistan in this crucial match.
Cricket enthusiasts eagerly anticipated an intense battle between two competitive teams. The Super 4 stage promised to deliver high-quality cricket and thrilling encounters as the teams vied for supremacy in the Asia Cup 2023.
As the match unfolded at the Gaddafi Stadium, fans from both sides of the border and around the world tuned in to witness the action. With each run, wicket, and boundary, the excitement and tension grew, making this clash a memorable moment in the tournament.
As the Asia Cup 2023 Super 4 stage continued, Pakistan and Bangladesh, along with India and Sri Lanka, competed fiercely for the coveted title. Every match brought new challenges and opportunities for these cricketing nations, and fans could look forward to more thrilling contests in the days to come.
The clash between Pakistan and Bangladesh was just the beginning of the Super 4 stage, and cricket enthusiasts eagerly awaited the outcome of this match and the exciting battles that lay ahead. The Asia Cup 2023 promised to be a cricketing spectacle filled with passion, talent, and unforgettable moments on the field.
For more related updates visit our official website .
By- Sahiba Suri