Bangladesh v West Indies: Important Takeaways from the 1st Test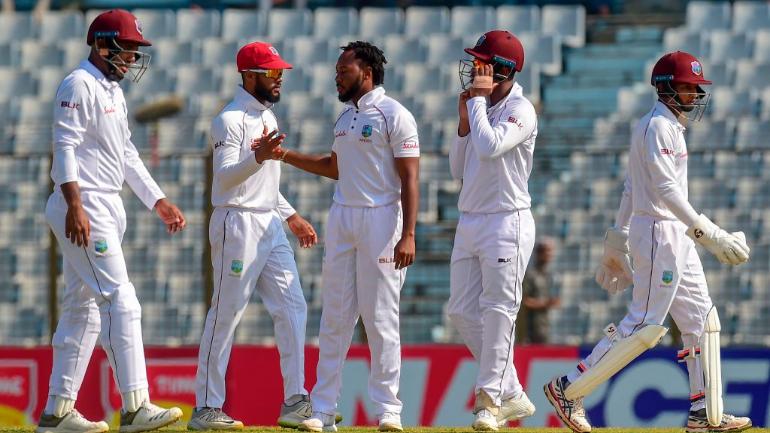 The 1st Test between Bangladesh and West Indies at Chittagong ended yesterday as the home side clinched victory by 64 runs in dramatic fashion. The West Indies have once again failed to prove their worth in Test cricket and Bangladesh have yet again displayed how much they have improved.
Here is a look at some significant takeaways from the 1st Test between the two sides.
Nayeem Hasan's record-breaking debut performance
On a pitch that greatly assisted spin and bounce, young Bangladeshi off-spinner Nayeem Hasan, aged 17 years and 355 days, put up a terrific effort in his debut innings, taking 5-61. It was a performance that broke the back of West Indies in the first innings and gave Bangladesh an instant hero. With this five-wicket haul, Nayeem became the youngest ever player to take five wickets on debut.
Shakib Al Hasan reaches a unique double
Bangladeshi all-rounder Shakib Al Hasan once again proved why he is one of the best in the business. While he wasn't too successful with the bat, Shakib did end up snaring 5 crucial wickets and with it completed the unique double of 3000 runs and 200 wickets. He has achieved this feat in only his 54th Test – the fastest by any player, overtaking the legendary Ian Botham of England.
West Indies fail against spin, again
West Indies' frailties against spin are well known and in the first Test this was exposed really well by Bangladesh. Instead of trying to dig in and counter the spin, the West Indian batsmen fell to lose shots or for lack of application. The Bangladeshi spinners took all the 20 West Indian wickets to fall in this Test which demonstrates how weak they are against spin bowling and difficult it will likely be for them in the next match.
Mominul Haque's masterful hundred
Mominul Haque once again displayed his class and showed why he is the best Bangladeshi Test batsman at present with a masterful hundred on the first day of the Test. His 120 off 167 balls was a sparkling effort on a difficult track and was the only hundred of the Test. The right-handed batsman now has 8 hundreds to go with his 12 fifties and has firmly established himself as the No.3 in the Test side.
Bangladesh turning into a robust Test unit at home
Despite the recent embarrassing loss at home against Zimbabwe, Bangladesh are proving to be a very solid Test side at home. The win against West Indies was the fourth in their last eight home Tests – the wins coming against England, Australia, Zimbabwe apart from West Indies. Prior to these eight Tests, Bangladesh had won only four out of 52 home Tests; thus showing what giant strides they have taken in the longest format as well.