"French Football Legends in the Bundesliga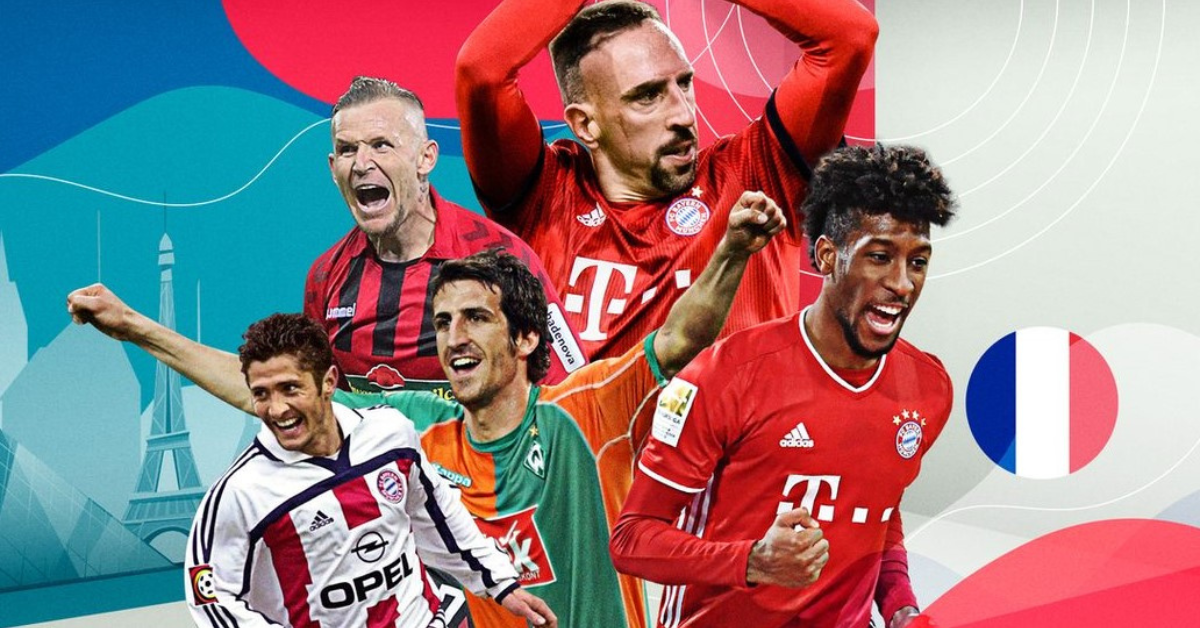 "French Football Excellence in the Bundesliga: From Ribery to Coman"
France and Germany have a long history of football rivalry, and over the years, some of the best French talents have graced the Bundesliga. Let's take a closer look at some of these remarkable footballers who have left their mark on Germany's top flight.
Franck Ribery (2007 – 2019)
Franck Ribery, a footballing maestro, made his presence felt in the Bundesliga for 12 seasons with Bayern Munich. During his time in Germany, he amassed 273 appearances, contributing with an incredible 86 goals and 120 assists. Ribery's stint with Bayern was laden with success, as he clinched over 21 titles. Notably, he remains the highest-scoring French national in the history of the German top-flight league.
The pinnacle of Ribery's career in the Bundesliga came during the 2012/13 season when he played a pivotal role in Bayern's historic treble, securing the Bundesliga, UEFA Champions League, and DFB Cup titles. His exceptional performances led to him being named UEFA's Best Player in 2013, although he narrowly missed out on the Ballon d'Or, finishing behind Cristiano Ronaldo and Lionel Messi.
Kingsley Coman (2015 – present)
Kingsley Coman, the successor to Ribery, has been a fixture in Bayern Munich's squad since 2015. With 185 Bundesliga appearances to his name, Coman has proven himself as a crucial player for the Bavarian giants. In the 2012/13 Champions League final, it was Ribery who provided the match-winning assist, while Coman etched his name in Bayern's history by scoring the decisive goal in an all-German final against Paris Saint-Germain in 2020.
Despite enduring career-threatening injuries, Coman has continuously triumphed in the Bundesliga, securing eight successive league titles across his career with PSG, Juventus, and Bayern. The 2020/21 season marked his personal best in terms of combined goals and assists, highlighting his growth as a player. At just 27 years old, Coman still has plenty to offer and is a vital member of the Bayern squad.
Benjamin Pavard (2017 – 2023)
Benjamin Pavard made his Bundesliga debut with VfB Stuttgart before becoming an essential part of Bayern Munich's squad. With 174 Bundesliga appearances, Pavard's career reached its zenith when he was part of Bayern's historic sextuple-winning team. His journey in Germany involved both the joy of promotion to the Bundesliga and the disappointment of immediate relegation to Bundesliga 2.
Pavard was known for his versatility, often featuring on the right side of Bayern's defense. His dependable defending and remarkable vision made him a valuable asset. In 2023, Pavard bid farewell to the Bundesliga as he embarked on a new journey with Inter Milan.
Lucas Hernandez (2019 – 2023)
Lucas Hernandez, another French talent, joined Bayern Munich in 2019. He shared several similarities with Pavard, including four Bundesliga titles and a FIFA World Cup victory with France. Hernandez's versatility allowed him to excel both in central and wide defensive positions.
Notably, Hernandez held a remarkable record of never losing a Bundesliga match in his first 32 appearances until February 2021. Unfortunately, injuries, including a serious cruciate ligament rupture, hindered his progress, and he recently returned to Paris Saint-Germain.
In conclusion, these French footballers have significantly contributed to the Bundesliga's rich history. From Ribery's magical displays to Coman's youthful brilliance, and from Pavard's dependable defending to Hernandez's versatility, their impact on the league is undeniable. Despite their different paths, they all share a common legacy of excellence in German football.
For more related updates visit our official website .
By- Sahiba Suri