Dhanashree Verma's 'Real Spice Gang': Glimpse Inside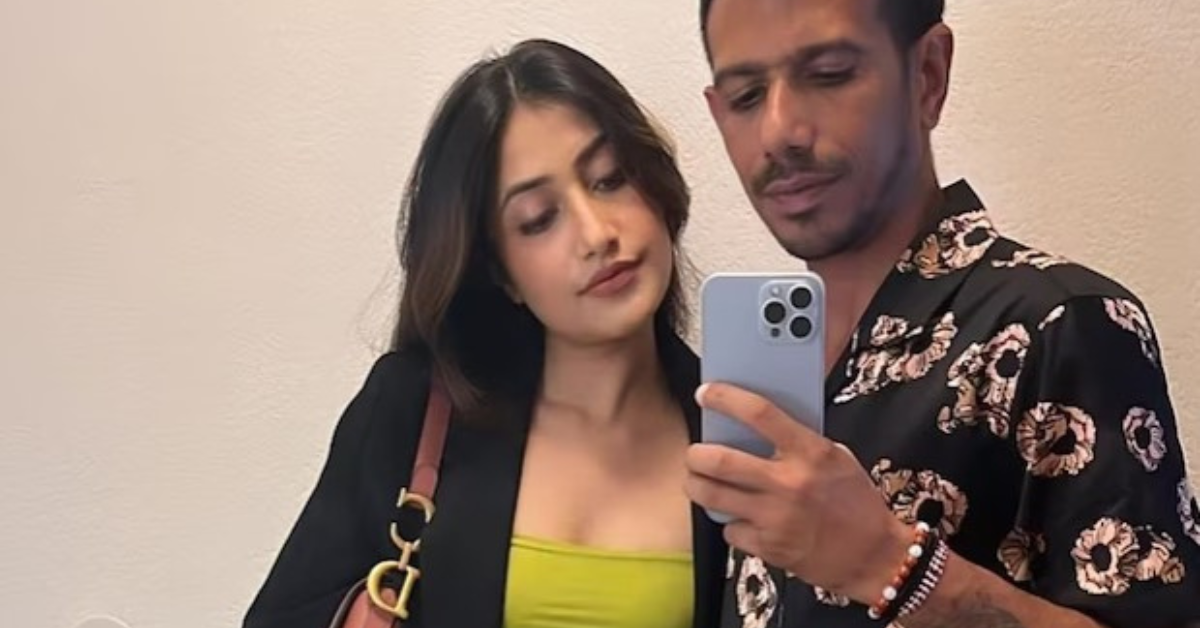 Dhanashree Verma's 'Real Spice Gang': Glimpse Inside
Dhanashree Verma Introduces 'Real Spice Gang' Featuring Yuzvendra Chahal
Yuzvendra Chahal's wife, Dhanashree Verma, is known for her active presence on social media, particularly Instagram. In her latest post, she introduced her 'Real Spice Gang,' offering a glimpse into her life beyond the cricket field.
The 'Real Spice Gang' post on Instagram consisted of four pictures and a reel, showcasing Dhanashree's close-knit group. Notably, her husband, Yuzvendra Chahal, appeared in three of the four pictures, affirming their strong bond. In the shared reel, Dhanashree was seen posing for a selfie inside a car, exuding charm and confidence.
Dhanashree has been actively supporting and encouraging Chahal throughout his cricket journey. Recently, when Chahal signed up to play for the English county side Kent, Dhanashree took to her Instagram story to express her pride and admiration. She referred to him as a legend and urged him to create more magic on the field.
Chahal's association with Kent comes after he was not selected by the national selectors for the ongoing Asia Cup and the upcoming ODI World Cup. Despite this setback, Dhanashree's unwavering support has been a source of strength for the Indian spinner.
Yuzvendra Chahal, who is known for his prowess as a leg-spinner, will be the second Indian cricketer to represent Kent, following the path of seamer Arshdeep Singh. Arshdeep featured in five games for Kent in June-July, making an impact by capturing 13 wickets.
Chahal expressed his enthusiasm about the new challenge of playing English county cricket. In a statement issued by the club, he emphasized his eagerness to compete in English conditions and contribute his skill and international experience to Kent's squad.
Kent's head coach, Paul Downton, expressed delight at having secured the services of a quality spinner like Yuzvendra Chahal, especially with Matt Parkinson unavailable until next year and Hami Qadri recently injured. Chahal, although renowned for his limited-overs performances, has an impressive First-Class record, having played 33 matches and taken 87 wickets at an average of 35.25. He has secured three four-wicket hauls in an innings and two five-wicket hauls in an innings, with his best figures being 6 for 44 in a single innings and 8 for 112 in a match.
Despite Chahal's recent outings in First-Class cricket, he will be looking to make a significant impact in English conditions during his stint with Kent. As he embarks on this new chapter in his career, he carries with him the support and belief of his 'Real Spice Gang,' with Dhanashree Verma at the forefront of his cheering squad.
This move to Kent offers Chahal an opportunity to continue honing his skills and make a valuable contribution to the team's performance. While he awaits his Test debut for India, he remains a key player in the limited-overs format and continues to evolve as a prominent figure in the world of cricket.
In conclusion, Dhanashree Verma's 'Real Spice Gang' serves as a testament to the strong bond between her and Yuzvendra Chahal, providing a glimpse into the couple's life outside the cricketing arena. As Chahal takes on the challenge of English county cricket, he does so with the backing of his wife and a close circle of friends, ready to create more memorable moments on the field.
The love and support shared between Dhanashree Verma and Yuzvendra Chahal exemplify the power of a strong partnership both on and off the cricket field. With their combined determination, they continue to make their mark in the world of sports and entertainment.
For more related updates visit our official website .
By- Sahiba Suri