BCCI VP Applauds India's Victory Over Pakistan.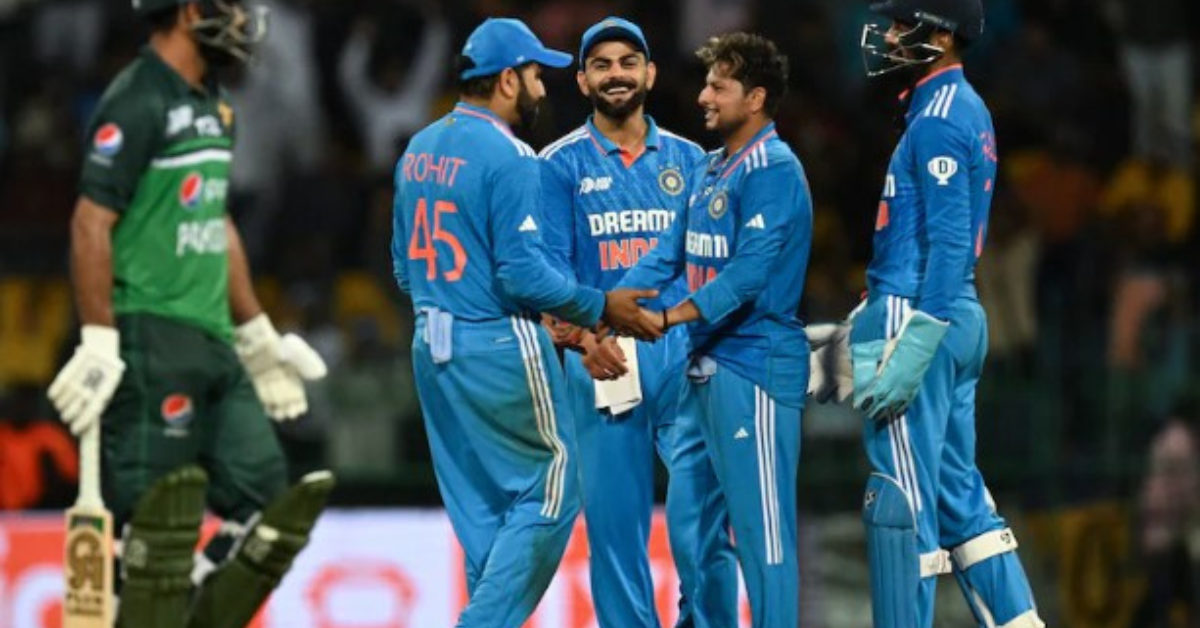 BCCI VP Applauds India's Victory Over Pakistan.
BCCI VP Rajeev Shukla Lauds India's "Beyond Imagination" Win Over Pakistan
In a thrilling clash during the Super Four stage of the Asia Cup, India secured their biggest victory over arch-rivals Pakistan in One Day Internationals (ODIs). BCCI Vice President Rajeev Shukla expressed his admiration for Team India's exceptional performance, describing the win as "beyond people's imagination."
Fiery centuries from Virat Kohli and KL Rahul, followed by Kuldeep Yadav's five-wicket haul, propelled India to a resounding 228-run victory over Pakistan at the R Premadasa Stadium in Colombo on Monday.
Rajeev Shukla shared his thoughts on the match, saying, "Today, Virat Kohli and KL Rahul did wonders, scoring 356 runs while losing just 2 wickets. India set a huge score… It was beyond people's imagination, the way they demonstrated their skills."
The BCCI Vice President also highlighted Virat Kohli's remarkable achievement of breaking Sachin Tendulkar's record by becoming the fastest to reach 13,000 runs in international cricket. "Virat Kohli also completed his 13,000 runs in international cricket, breaking Sachin Tendulkar's record, and this is a monumental achievement. It's a big victory for us, and many congratulations to the Indian team," Rajeev Shukla added.
To put this achievement into perspective, Sachin Tendulkar needed 321 innings to reach the 13,000-run milestone, while Virat Kohli achieved it in just 267 innings. The only other three batters to reach this mark, Ricky Ponting, Mahela Jayawardene, and Sanath Jayasuriya, also required more than 300 innings.
During the match, Virat Kohli delivered a stellar performance, scoring a brilliant 122 off 94 deliveries. KL Rahul, who made a remarkable comeback after a long hiatus, smashed a stunning 111 off 106 balls. This dynamic duo played a crucial role in India's impressive total of 356/2 against their arch-rivals Pakistan in the Asia Cup Super Four clash.
The foundation for this formidable total was laid by Captain Rohit Sharma and young sensation Shubman Gill, who both scored half-centuries. However, the icing on the cake came from the unbeaten 233-run partnership between Kohli and Rahul, with the former skipper finishing the innings in style with a maximum.
Kuldeep Yadav, India's left-arm wrist spinner, also played a pivotal role in the victory. He secured his second ODI five-wicket haul by dismantling the Pakistani batting lineup, ultimately bowling them out for a mere 128 runs while chasing India's imposing target of 357.
With this resounding victory, India not only secured bragging rights but also clinched the top spot in the Asia Cup 2023 Super Four's table. The tournament served as a crucial tune-up for the upcoming ODI World Cup in India, and Team India's emphatic performance has left fans excited and hopeful for the future.
As the cricketing world continues to marvel at this extraordinary win, the Indian team, under the leadership of Captain Rohit Sharma, looks well-prepared and determined to conquer new heights in the upcoming international tournaments.
In conclusion, India's remarkable triumph against Pakistan was a testament to their skill, determination, and teamwork, and it left the cricketing fraternity in awe of their abilities on the field. The BCCI and cricket fans worldwide eagerly await more memorable performances from Team India in the future.
For more related updates visit our official website .
By – Sahiba Suri