The Ashes 2019 Schedule, Teams & Squads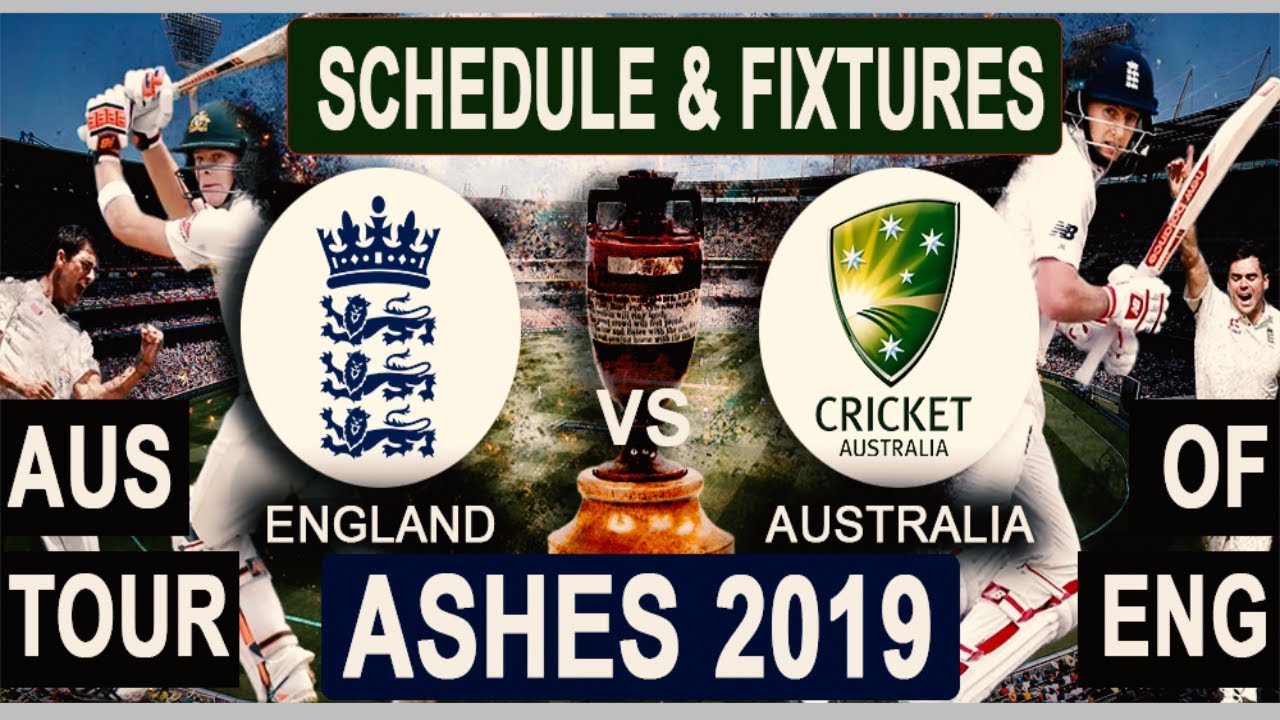 The Ashes 2019 has got off to a rollicking start and fans are already watching the game with bated breath. England and Australia kick-started The Ashes stars from the 1st of August, 2019 and the series will go on till the 16th of September, 2019. The 5-test series will take place in England this time. This is the very first time that the schedule will start from August, 2019.
Ashes Series 2019 Fixtures & Results:
First Test: August 1-5 (Edgbaston, Birmingham) [Australia won by 251 runs]
Second Test: August 14-18 (Lord's, London)
Third Test: August 22-26 (Headlingley, Leeds)
Fourth Test: September 4-8 (Old Trafford, Manchester)
Fifth Test: September 12-16 (Kennington Oval, London)
Australia Team for Ashes Series 2019:-
Australia Squad:
Openers: David Warner, Marcus Harris, Cameron Bancroft
Middle Order: Steven Smith, Usman Khawaja, Marnus Labuschagne, Travis Head, Tim Paine, Mitchell Marsh
Bowlers: Pat Cummins, Matthew Wade, Tim Paine (Captain and Wicket-Keeper), James Pattinson, Josh Hazelwood, Mitchell Starc, Peter Siddle, Michael Neser and Nathan Lyon.
England Team for Ashes Series 2019:
England Squad:
Openers: Rory Burns, Jason Roy
Middle Order: Joe Denly, Joe Root (Captain), Jonny Bairstow, Jos Buttler (Wicket-Keeper), Ben Stokes, Moeen Ali
Bowlers: Stuart Broad, Chris Woakes, Jofra Archer, Sam Curran, Jimmy Anderson and Olly Stone
Both the teams have several players who took part in the 2019 ICC World Cup and it will be a heated battle by all means. The ODI captains of both teams are not playing the Test series and there are two new captains at the helm.
List of Ashes Series Winners Since 1882 to till Date:-
| | | | | | | |
| --- | --- | --- | --- | --- | --- | --- |
| Series | Years | Result | Tests | Australia | England | Draw |
| 70 | 2017/18 | Australia | 5 | 4 | 0 | 1 |
| 69 | 2015 | England | 5 | 2 | 3 | 0 |
| 68 | 2013/14 | Australia | 5 | 5 | 0 | 0 |
| 67 | 2013 | England | 5 | 0 | 3 | 2 |
| 66 | 2006/07 | England | 5 | 1 | 3 | 1 |
| 65 | 2009 | England | 5 | 1 | 2 | 2 |
| 64 | 2005/06 | Australia | 5 | 5 | 0 | 0 |
| 63 | 2005 | England | 5 | 1 | 2 | 2 |
| 62 | 2002/03 | Australia | 5 | 4 | 1 | 0 |
| 61 | 2001 | Australia | 5 | 4 | 1 | 0 |
| 60 | 1998/99 | Australia | 5 | 3 | 1 | 1 |
| 59 | 1997 | Australia | 6 | 3 | 2 | 1 |
| 58 | 1994/95 | Australia | 5 | 3 | 1 | 1 |
| 57 | 1993 | Australia | 6 | 4 | 1 | 1 |
| 56 | 1990/91 | Australia | 5 | 3 | 0 | 2 |
| 55 | 1989 | Australia | 6 | 4 | 0 | 2 |
| 54 | 1986/87 | England | 5 | 1 | 2 | 2 |
| 53 | 1985 | England | 6 | 1 | 3 | 2 |
| 52 | 1982/83 | Australia | 5 | 2 | 1 | 2 |
| 51 | 1981 | England | 6 | 1 | 3 | 2 |
| 50 | 1978/79 | England | 6 | 1 | 5 | 0 |
| 49 | 1977 | England | 5 | 0 | 3 | 2 |
| 48 | 1975 | Australia | 4 | 1 | 0 | 3 |
| 47 | 1974/75 | Australia | 6 | 4 | 1 | 1 |
| 46 | 1972 | Drawn | 5 | 2 | 2 | 1 |
| 45 | 1970/71 | England | 6 (7) | 0 | 2 | 4 |
| 44 | 1968 | Drawn | 5 | 1 | 1 | 3 |
| 43 | 1965/66 | Drawn | 5 | 1 | 1 | 3 |
| 42 | 1964 | Australia | 5 | 1 | 0 | 4 |
| 41 | 1962/63 | Drawn | 5 | 1 | 1 | 3 |
| 40 | 1961 | Australia | 5 | 2 | 1 | 2 |
| 39 | 1958/59 | Australia | 5 | 4 | 0 | 1 |
| 38 | 1956 | England | 5 | 1 | 2 | 2 |
| 37 | 1954/55 | England | 5 | 1 | 3 | 1 |
| 36 | 1953 | England | 5 | 0 | 1 | 4 |
| 35 | 1950/51 | Australia | 5 | 4 | 1 | 0 |
| 34 | 1948 | Australia | 5 | 4 | 0 | 1 |
| 33 | 1946/47 | Australia | 5 | 3 | 0 | 2 |
| 32 | 1938 | Drawn | 4 (5) | 1 | 1 | 2 |
| 31 | 1936/37 | Australia | 5 | 3 | 2 | 0 |
| 30 | 1934 | Australia | 5 | 2 | 1 | 2 |
| 29 | 1932/33 | England | 5 | 1 | 4 | 0 |
| 28 | 1930 | Australia | 5 | 2 | 1 | 2 |
| 27 | 1928/29 | England | 5 | 1 | 4 | 0 |
| 26 | 1926 | England | 5 | 0 | 1 | 4 |
| 25 | 1924/25 | Australia | 5 | 4 | 1 | 0 |
| 24 | 1921 | Australia | 5 | 3 | 0 | 2 |
| 23 | 1920/21 | Australia | 5 | 5 | 0 | 0 |
| 22 | 1912 | England | 3 | 0 | 1 | 2 |
| 21 | 4353 | England | 5 | 1 | 4 | 0 |
| 20 | 1909 | Australia | 5 | 2 | 1 | 2 |
| 19 | 2770 | Australia | 5 | 4 | 1 | 0 |
| 18 | 1905 | England | 5 | 0 | 2 | 3 |
| 17 | 1187 | England | 5 | 2 | 3 | 0 |
| 16 | 1902 | Australia | 5 | 2 | 1 | 2 |
| 15 | 398 | Australia | 5 | 4 | 1 | 0 |
| 14 | 1899 | Australia | 5 | 1 | 0 | 4 |
| 13 | 1897/98 | Australia | 5 | 4 | 1 | 0 |
| 12 | 1896 | England | 3 | 1 | 2 | 0 |
| 11 | 1894/95 | England | 5 | 2 | 3 | 0 |
| 10 | 1893 | England | 3 | 0 | 1 | 2 |
| 9 | 1891/92 | Australia | 3 | 2 | 1 | 0 |
| 8 | 1890 | England | 2 (3) | 0 | 2 | 0 |
| 7 | 1888 | England | 3 | 1 | 2 | 0 |
| 6 | 1887/88 | England | 1 | 0 | 1 | 0 |
| 5 | 1886/87 | England | 2 | 0 | 2 | 0 |
| 4 | 1886 | England | 3 | 0 | 3 | 0 |
| 3 | 1884/85 | England | 5 | 2 | 3 | 0 |
| 2 | 1884 | England | 3 | 0 | 1 | 2 |
| 1 | 1882/83 | England | 3 | 1 | 2 | 0 |