Aaron Finch and David Warner accept blame for failed chase but Australia's middle order exposed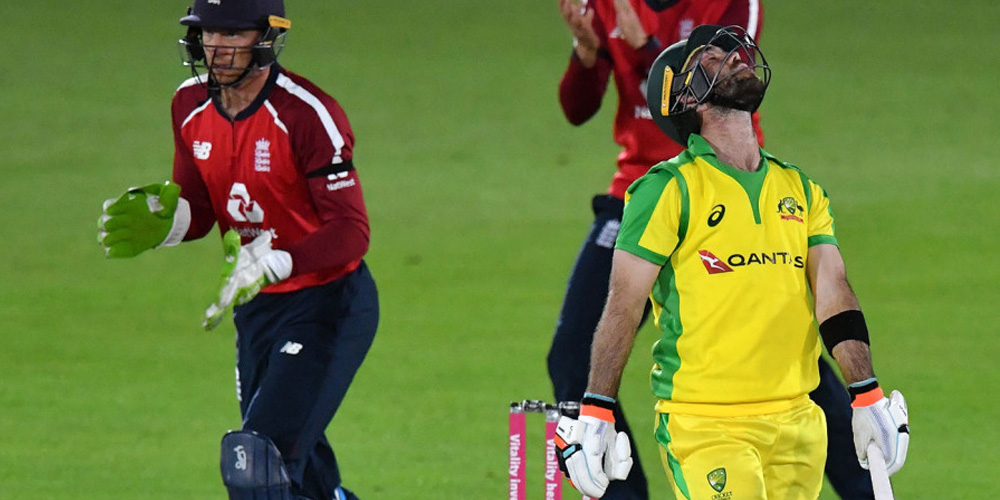 David Warner and Aaron Finch accepted the blame for not being able to take Australia across the line in the opening T20I at the Ageas Bowl, but the startling collapse renewed the focus on their middle-order which has been the one area of the team to struggle when needed.
After an opening stand of 98 in 11 overs, Australia's equation came down to 39 off 35 balls – seemingly a canter with Warner and Steven Smith going well – but Adil Rashid struck twice in his last over, the second scalp when Glenn Maxwell opted not to see out the legspinner, and the recalled Marcus Stoinis laboured in finding the rope.
The final six overs of Australia's chase brought just one boundary when Stoinis managed to heave Tom Curran over long-off in the last but he was then unable to scramble the nine needed off the final four balls.
The limp end had echoes of Australia's only other recent T20I defeat against South Africa, at Port Elizabeth, when they couldn't chase 160 despite being 98 for 1 in the 13th over with Warner and Smith set. On that occasion, Warner was left stranded as the middle-order managed just a single boundary between them. This time Warner was part of the collapse when he was cleaned up giving himself room to a Jofra Archer yorker.
"We pride ourselves on being there at the end," Warner said. "We talk about one batter being there and in, and the next guy comes in and tries to take those calculated risks – and we bat to the end. If you get a good delivery you can't do anything about it but that's what we pride ourselves on and that's basically what our game is built around."
Finch defended the shot selection of Smith, picking out deep midwicket, and Maxwell who slammed a drive to cover in Rashid's final over.
"They were both playing to a gameplan, so I think if you can separate the execution and the gameplan, you can look a bit deeper into it," he said. "T20 games are about making sure you take on your options and matching that up with the right gameplan so there's plenty to work on. I'd probably be more critical of myself and Davey, who got us off to good start and neither of us really kicked on to have a match-winning contribution."
While Australia had won seven of their eight completed T20Is last season against Sri Lanka, Pakistan and South Africa, the middle-order was not overly tested during that period due to the success of the top three. However, the defeats here and at Port Elizabeth in February highlighted that it is the weakness of this side.
"We knew that England were going to keep coming hard and they executed really well," Finch said. "We just struggled to find the boundary a bit in that 12-18 over mark. That is something to keep working on and that's not the first time it's happened, so as long as the boys keep learning and improve at it, lesson learned."
It is notable that the top score of a batsman at No. 4 to No. 8 in that period – those who could be viewed as needing to finish an innings in a variety of situations – was Smith's 30 off 15 balls when he was pushed down to No. 5 against South Africa in Cape Town.
There has also been a reasonable turnover of players in those positions including Ben McDermott, Ashton Turner, Matthew Wade and Mitchell Marsh. The latter two are part of this tour but were the players to make way in this match for the return of Maxwell and the slightly surprising recall of Stoinis.
Two days before the series, coach Justin Langer had said that he saw Stoinis as having to force his way back into the side at the top of the order which is where he had a prolific Big Bash last season but in the end he returned at No. 5.
"I think we just have to try to be a little bit smarter and work out how we're going to hit our boundaries," Warner said of the failed chase. "We have to try to keep rotating strike and keep finding the boundary in those middle overs."
However, after what was their first international for more than six months, Finch was not too downbeat despite having seen the opening match slip from Australia's grasp.
"There was plenty of stuff to be positive about. If you can separate the result and just look at it at individual points, I think there was some great stuff. Obviously it would have been ideal to get over the line, but England are a bloody good side.
"You look at how they went approached their middle overs as well and they were quite one-dimensional with how they went about it, but it was a simple plan and they executed it which was the most important thing. We had a couple of good hit-outs against each other but when you pull on the colours against England, it's a different thing."