Tottenham v/s Ajax – Champions League Semi Final 1. Review and Talking Points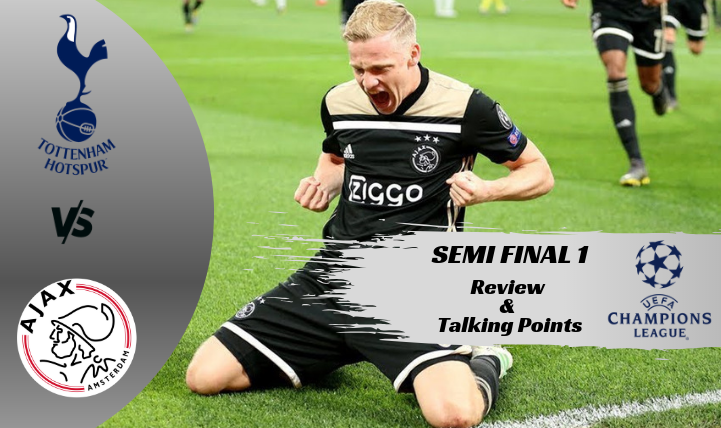 Tottenham Hotspur welcomed Ajax to their new stadium on Tuesday in the first semi-final of the 18/19 Champions League.
A small injury crisis was compounded by the suspension to Son Heung-Min, and Spurs were forced to start with a back 3 (3-5-2), made entirely of former Ajax players in Vertonghen, Sanchez and Alderweireld. It was a predictable, but a very defensive minded lineup, with the main attacking threat the wing backs, Trippier and Rose.
Ajax started as we expected, in a 4-2-3-1, with Dusan Tadic playing the False 9 role. Their plan was very simple: If it ain't broke, don't fix it.
The visitors started off much stronger of the 2 sides, and had the vast majority of possession. But it wasn't purposeless possession, for they probed endlessly to try and find an opening in the Tottenham back line, anchored by a weary looking Victor Wanyama.
Their efforts bore fruit, for Van De Beek found himself completely isolated in the box after Kieran Trippier played him onside. He feinted twice, and scored past Lloris with his 3rd.
Ajax threatened again, and a truly sublime passing move ended in dismay after Van De Beek chose to shoot himself, rather than square it across goal where David Neres would have had a tap in.
Spurs looked very threatening from set pieces, but Ajax had them well and truly neutralised in open play. Fernando Llorente and Toby Alderweireld failed to score with their free headers, leaving Spurs to seriously rue missed chances.
Jan Vertonghen suffered a painful collision from a Spurs set piece, which left him with a bloody face, and he was forced off injured, unable to continue after retching on the pitch. His replacement, Moussa Sissoko, brought much needed dynamism to the side, and with a change in formation, Spurs regained control of proceedings.
The second half was all Tottenham's, but they still had no way to surmount the defensive wall of De Ligt and Daley Blind. A few set piece opportunities came their way, but they were unable to convert either of them, and closed the half (and the game) with the lion's share of possession, but nothing constructive to show for it. They will head to Amsterdam knowing they are down an away goal, but also knowing that star striker Son will be available for selection.
Talking Points:
Head Injury Regulations
When Jan Vertonghen collided with Toby Alderweireld, the bloodflow from a suspected broken nose hid the rest of his face. After receiving strenuous treatment to staunch the bleeding, he was cleared by the medical staff to come back and play, despite the referee's concerns. Disoriented, he lasted 30 seconds, and had to be forced off to avoid major and possibly permanent damage.
Circumstances like these underline the necessity of treating head injuries with the firmest of precautions. One suggestion would be to allow 'temporary injury substitutes'; players who can come on as subs for a 5 minute period to allow the injured player enough time to be treated, without prematurely rushing him back on. Should the player not return in the 5 minutes, the substitution would be made permanent.
Moussa Sissoko
Sissoko came on for Vertonghen, and his impact was immense. Not only did he stop counter attacks and use his muscle to win the ball back in midfield, he also carried it forward into the Ajax territory, and helped get the likes of Eriksen, Dele Alli and Lucas Moura more involved.
He was without a doubt, Spurs's best player this game, and is a serious contender for their player of the season.
Donny Van De Beek
Van De Beek was a hugely menacing presence in the Tottenham half all through the game. Not only was he in position to defend, but his movement in attack posed all sorts of problems for Alderweireld and Sanchez.
His drifting in between the lines, and from one flank to another meant he just could not be man marked efficiently. He linked up all of Neres, Tadic and Ziyech, and often was their furthest man forward. He scored one and should have assisted another to all but secure Ajax a berth in the final. His performance was one of a true False 9, and he would make a very exciting transfer target for Manchester City in the summer.
Son's return in the away leg for Tottenham will make or break their season. Although Ajax have been nothing short of brilliant at home, Pochettino will have learnt valuable lessons from the defeat at home. Well known for adopting multiple systems, he will be forced to tweak into a more attacking one if he is to salvage a place in the Champions League final. A difficult task, but by no means impossible.