Tab Baldwin apologizes over "unfiltered" comments on Philippine basketball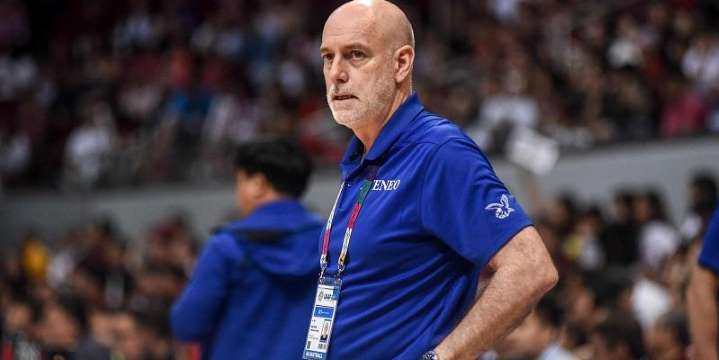 Ateneo de Manila University Blue Eagles head coach Tab Baldwin apologized on Monday for the "unfiltered" comments he made on a podcast about Philippine basketball.
The Philippine Basketball Association said in a statement that Baldwin issued his apology in a video conference meeting yesterday with commissioner Willie Marcial, deputy commissioner Eric Castro, and league legal counsel Atty. Melvin Mendoza.
"I feel bad that has happened and that is not my intention," said Baldwin, who is listed as an assistant coach of MVP Group mother ballclub TNT KaTropa.
Marcial earlier slammed Baldwin's comments as "detrimental to the league" and stressed the Kiwi tactician will be given a fine. The commissioner has yet to announce the exact fine for Baldwin.
Baldwin, who is also the program director of Samahang Basketbol ng Pilipinas for the national men's basketball team Gilas Pilipinas, raised his concerns on a recent podcast about the format of the two import-laden PBA conferences.
The three-time UAAP champion mentor remarked that it was a big mistake for the 12 PBA teams to recruit only one foreign reinforcement in each conference.
"We should never have a single import playing on a team. Further, we should never have a single import that is given all of the rules latitudes that the imports are given here by the referees and by the administration of the PBA," Baldwin said in the podcast.
The former New Zealand Tall Blacks tactician also blasted the officiating in the 45-year old league, saying there are preferential game treatments on imports.
"A foul for a PBA player for a local player isn't a foul on an import, and the foul of an import, that same foul on a local player isn't a foul. So, our local players are competitively disadvantaged in their ability to compete against the import players, and this is not the case in other countries," he explained.
Baldwin further noted on the podcast the "tactical immaturity" of Filipino basketball coaches.
"And so what do I mean by that? I mean that they are significantly unaware of the tactical advancements and the systemic advancements of coaching systems coming out of Europe in particular which, you know, are built on the backs of player development. And so our player development here is mature, and our appreciation for tactical advancement and tactical systems is immature," explained Baldwin.
This remark by Baldwin received much uproar from the Philippine basketball coaching community.
In two separate statements, the Basketball Coaches Association of the Philippines said Baldwin's words underestimated the capabilities of Filipinos.
"We are here to protect not just the welfare of the local coaches but also Filipino citizens," said BCAP President and Jose Rizal University Heavy Bombers head coach Louie Gonzalez in a statement released on Saturday.
In their second statement released on Monday, the BCAP president questioned the coaching clinics organized by Baldwin in the country during the past years.
The group emphasized they have been regularly conducting coaching webinars for free and partnered with different international coaching organizations and the Philippine Sports Commission.
"He has been conducting basketball clinics in the last couple of years that cost more than what some coaches make in a month to participate in. In fact, his clinics are one of the most expensive ones in the country. At the end of the day, his approach to basketball is ultimately a business," said Gonzalez.
Hoop Coaches International, led by former Phoenix Fuel Masters head coach Ariel Vanguardia, also expressed its dismay over Baldwin's remarks.
"It is factual that we aren't at the level of top tier European coaches. But it does not mean that we are not closing the gap and that we do not have coaches that are at that level. So, it is disheartening to hear that instead of helping the Filipino coaching community grow towards a higher standard, you saw it fit to put us down," said the group in a statement.
Several high-profile coaches in the country such as NLEX Road Warriors head coach Yeng Guiao, Barangay Ginebra San Miguel mentor Tim Cone, and Meralco Bolts tactician Norman Black cried foul over Baldwin's comments.