Difference Between Basketball and the Cricket Shoes Requirement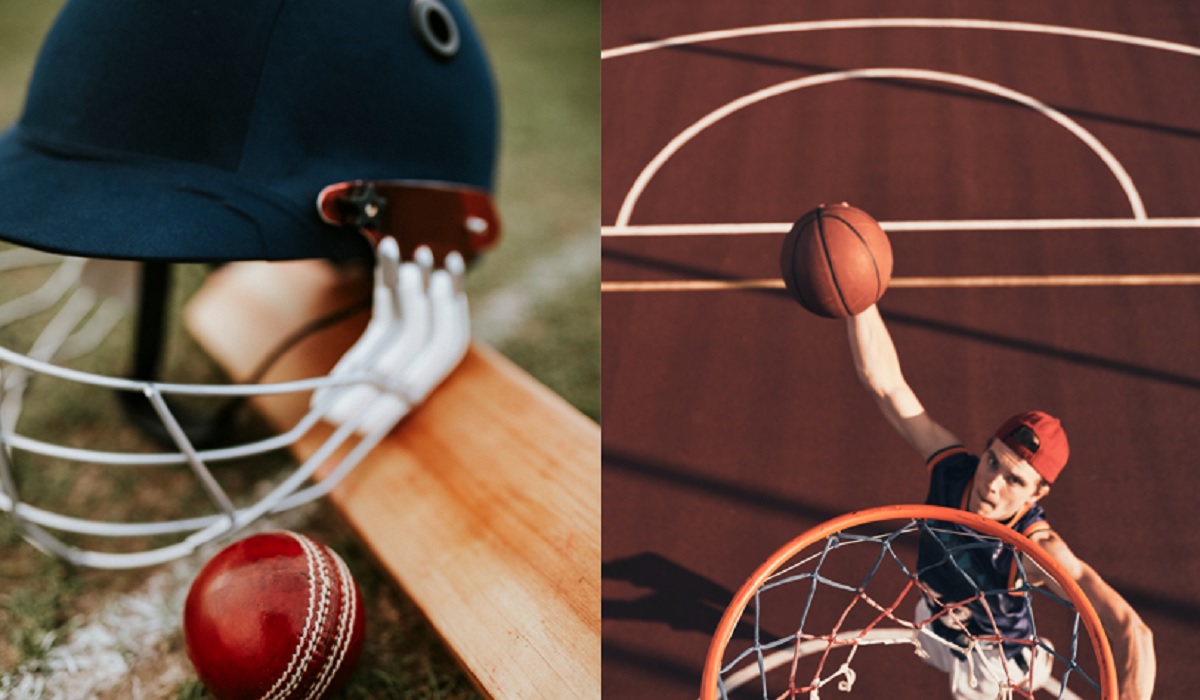 What do you think? Can you wear basketball shoes to a professional cricket match?
Or vice versa.
Nowadays, sports science has developed a lot, and you can't excel to a professional level if your sports gear is not up to the mark and specially designed for that particular sport.
Basketball and the cricket are altogether a different game, and their shoe requirement also changes. We will discuss the shoes of both the sports and describe how you select cricket shoes and basketball shoes in detail.
Selection of Cricket Shoes
1. Size
The right size is crucial.
Your shoes shouldn't be too tight so that they cause discomfort. Online shopping has made it possible to order the perfect size shoes without ever trying them on.
2. What surfaces are you going to be playing?
Are you going to be playing on turf or synthetic pitches?
Good rubber shoes are essential for synthetic pitches. This is particularly important when dirt or moisture from the field ends up on the pitch. Even for bowlers, regular running shoes or sneakers can be worn very quickly.
You will need spiked footwear for turf pitches.
You see that the sole of your shoe does not matter. You can do it!
3. Your role as a cricketer
Are you a bowler or a batsman? Or are you both?
Half-spiked shoes work well for batsmen. Your footwork can be severely affected by longer spikes that dig into the turf. Your footwork must be in line with both spin and pace bowling. Shoes that don't allow for good footwork can negatively impact your game and your confidence.
Bowlers need to have the best grip. Good cricket rubber shoes are essential for synthetic surfaces. On turf tracks, though, full cricket spikes are the way to go, giving you full grip through your delivery stride and follow through. Shoes that provide additional support around your ankles are a great choice, especially if you're a fast bowler.
Light shoes that can be adjusted from complete to half-spikes are ideal for all-rounders.
More information about cricket shoes is available here:
The "Upper": The top of the shoe. You'd be able to tell your size by knowing your foot measurements.
The "Outsole": The sole of the shoe that comes in direct contact with the ground. It is essential to consider the surface you are playing on and your role in cricket.
The "Midsole.": A layer between the insole and outsole that provides a cushion. This is particularly important for bowlers.
The "Sock Liner.": Additional cushioning in the ankle and heel areas. This is especially important for bowlers who perform high-impact actions.
4. 4. Conclusion
If you want to play at the professional level or be the best, you should consider a shoe with a higher price tag that offers the best performance.
In some cases, however, a lower budget is better. If you're buying shoes for your 11-year-old son, it is not a good idea to go with a costly option as your child will grow and likely need new shoes within a year.
These four tips should help you select the best cricket shoes for your performance.
Selecting Points of Basketball Shoe
There are many options available from LeBron James' sneaker line and Michael Jordan's Air Jordan lines, as well as new models from Kyrie Irving and Giannis "The Greek Freak," Antetokounmpo, Donavon Mitchell, and Under Armour just launched new performance sneakers deals for Steph Curry, Joel Embiid,
There are so many basketball shoes available; it can be challenging to find the right one for you. However, a good performance sneaker will fit you correctly and provide the support you need, which will enhance your game.
Parts of a Basketball Shoes
Upper
Toe
Eyelets
Midsole
Outsole
Heel counter
Tab Heel
Tongue
Throat
Upper Fit
Look for basketball shoes that are comfortable and made from suitable materials. Are you looking for stability or more flexibility? Basketball shoes with leather uppers can be as sturdy as sneakers made with more flexible, breathable synthetic materials. Many older styles, such as those made by Jordan and Nike, rely on leather for their durability. Still, many of the newer models, like Paul George's, use a mix of mesh overlays to provide a balance between comfort and reliability. While both are excellent options, leather can wear over time and cause the shoe to become looser.
Midsole Materials
Did you know that basketball players often run between 1 and 2 miles per game? This motion can be tiring on the feet and energy of players, so their basketball shoes must provide long-lasting comfort and responsiveness. The midsole is crucial. The midsole has located between the outsole (the upper) and the sole. It is responsible for the shoe's cushioning and energy return. Most commonly, basketball shoes have built with traditional EVA midsoles, which are lightweight, compression-resistant foam. Other tech-heavy innovations in midsole materials include Nike Air, Zoom and React technology, Under Armour's HOVR system, and Reebok's Hexalite fabric.
Considerations for Outsole
A shoe with an ultra-grippy outsole should considered a key component when shopping for your next basketball shoe. The outsole of a shoe is where the rubber meets the road or, in this case, the hardcourt. This outermost part of a basketball sneaker's bottom has typically made out of rubber or synthetic material. It features traction-grabbing patterns like concentric-circle pivot points and hexagonal or herringbone patterns. Some models have multi-angle blades with graduated edges that provide better on-court grip. A basketball shoe with an outsole that curves along its sides will have a bonus feature: it helps maintain traction throughout your step and optimizes your ability to roll through your stride.
Basketball shoes Relation with Court Type
The basketball shoes outsole has designed especially for the outdoor court and the indoor court.
The outdoor surface is rough so you don't need any soft rubber for proper grip just like the indoor court in which the court surface is smooth and slippery.
How to choose the right basketball shoes based on your position
Are you more comfortable playing outside the arc or getting down and dirty in the paint? Before buying a shoe, think about your style and where you are most likely to be on the court. A basketball shoe that is right for you can improve your performance on the court and boost your confidence.
There are three heights of basketball shoes:
* Low-top basketball shoes are an excellent choice for guards as they optimize speed and agility.
* High-top shoes for increased stability. They provide extra support around your ankle. Forwards and centers prefer them because they reduce strain on their feet and ankles.
*Mid tops are a good compromise for players who need rigid ankle support and unrestricted mobility. Mid-cut basketball shoes can be an excellent option for players who don't know their position on the court.
Additional Considerations when Buying Basketball Shoes
Take a look. Although it is not the most important thing on your priority list, the style of your shoes should not be overlooked. Sometimes how your shoe makes you feel about yourself is just as important as what it does for you. Keep this in mind when shopping for basketball shoes. However, don't forget to look at the latest colors and flashy designs.
Fit. Allow a little space (between the big toes and the end) for the shoe's sole. The shoe should be comfortably wide enough to fit without being too tight or too loose. Although it is okay for the heel to move a bit, the shoe should not slip or slide in any way. There are many brands who is manufacturing the basketball shoes for the people who have the wide feet
Feel. For added stability and protection against ankle roll, some shoes have medial areas made from stiffer materials. To have a solid foundation without sacrificing comfort, look for moderate to thin layers of cushioning in your midsole.
Durability. It's not worth spending money on a shoe that doesn't last for a season. Your basketball shoe will lose its supportability if the fabric and seams stretch, whether after one month or one year. Although a heavier sneaker is more durable, many lightweight shoes have made to last.
Skill. A weekend warrior who trains every Sunday at the gym needs a different shoe than a D1 athlete. Before deciding which shoe to buy, think about how often and how much competition you are playing.
Construct. Lebron James is my favorite player. Zion Williamson You will need to support yourself more than faster, more petite guys like Chris Paul or Steph Curry. A star basketball player's signature shoes will often reflect their body type and playing position. If your build isn't compatible with a specific style, don't be afraid of choosing a more versatile option.
PriceThe cost of basketball shoes doesn't determine a player's ability. You need to set a budget and then find the right shoe for you.