Past Masters of Indian Badminton: Pullela Gopichand – personification of grit and determination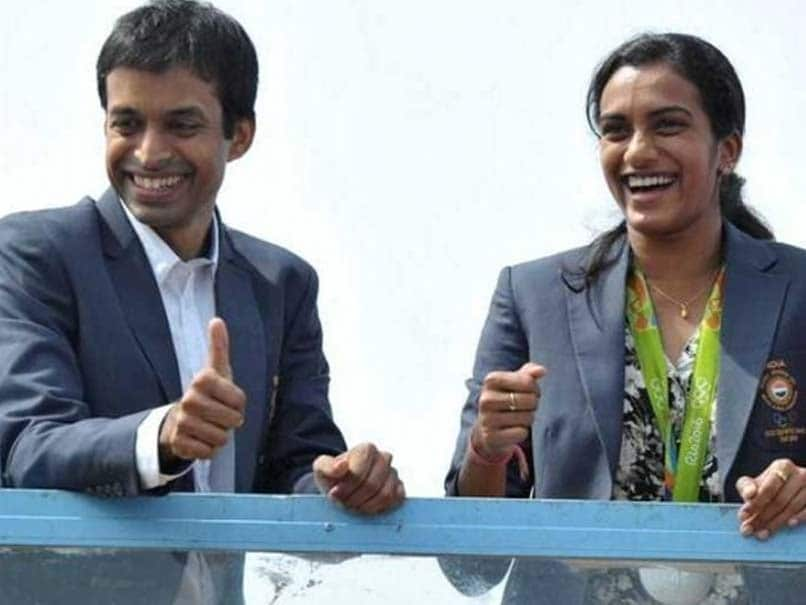 So much has been written in recent times about Dronacharya Award-winning badminton coach Pullela Gopichand that readers may question the necessity of presenting a profile in this series of the mentor whose badminton nursery catapulted Saina Nehwal and Kidambi Srikanth to the giddy heights of the World No 1 position, and PV Sindhu to the World Championship gold medal.
Every Indian badminton enthusiast is also aware that Gopi (as he is known to all and sundry) is one of only two players – the other being Prakash Padukone – to win the men's singles crown at the prestigious All-England Championships. Gopi won the title at the Arena Birmingham in 2001, 21 years after his senior compatriot ascended the top rung of the victory rostrum at the Wembley Arena in north-western London.
However, not all that much is known of the roller-coaster playing career of the man whose other names could have been grit and determination, qualities that simply did not allow him to quit the sport even after suffering a horrific knee injury that should, by rights, have spelt 'finish' to his career. Gopi comprehensively dominated badminton in this country in the second half of the 1990s, winning five consecutive National singles titles between 1996 and 2000.
The Andhra man's hegemony could be encapsulated in an endearing tale that included another player to also hold undisputed sway over all-comers on the Indian badminton scene. One of Gopichand's young relatives asked him in all innocence, in the year 2001, "Every time you win a trophy, why is it that you pose for a photo with the same girl?"
"The same girl" in question was Aparna Popat.
Gopi, by his own admission, did not know how to answer the question. It took him some time to explain that Aparna had proved stronger than her rivals in the women's singles, and that was why she continued to win the national title, and was required to pose with him, with the winners' trophies. With typical modesty, he did not elaborate on his own dominance in the men's field.
In the four years leading up to the 2000-01 Jaipur Nationals, Gopi and Aparna had virtually monopolised the singles titles on the Indian circuit. Gopi bagged his fifth consecutive national singles crown at Jaipur, while Aparna, having taken over from Manjusha Pawangadkar in 1997, had pocketed her fourth one (of an eventual nine in a row). It was only in their absence that others got a chance to climb the winners' rostrum. But when Gopi and Aparna were around, the script remained without twists.
Gopi's victim in the 2001 All-England final, China's Chen Hong, was completely bamboozled by the Indian's unusual combination of aggression and artistry; and went down without a whimper at 12-15, 6-15, in much the same manner as Indonesia's speedy hard-hitter Liem Swie King had gone down by a 3-15, 10-15 scoreline to Prakash Padukone in the 1980 All-England final.
And yet, Pullela Gopichand's blossoming badminton career could so easily have been nipped in the bud, well before his hit his prime, by a terrible injury to his left knee in 1994 when he was 21, and beginning to crank up the pressure on all his rivals. During the National Games at Pune that year, Gopi was to play the singles final in the evening; he had thrashed the reigning national champion Deepankar Bhattacharjee in the semi-final by an imposing 15-5, 15-3 scoreline, and was odds-on favourite to capture the singles crown.
"My partner Vijayraghavan and I were also in the semi-final of the doubles, which was played in the morning of the final day," Gopi recalls. "We were playing against Jaseel Ismail and Marcose Bristow; and were up 8-4 in the third and deciding game. I was moving sideways for a shot and Raghavan was moving back for the same shot; and we collided. Our knees got interlocked; and, as we fell, Raghavan landed on my foot, while my knee went in a different direction with our momentum."
It turned out to be a tear of the anterior cruciate ligament (ACL), and required comprehensive knee reconstruction. The injury was to effectively cost Gopi nearly three years of his career, since a long spell of rehabilitation prevented his participation in the next two nationals, in 1993-94 and 1994-95. In the 1995-96 national final, Deepankar slipped it across a less-than-fully-fit Gopi to extend his hold on the crown to three years in a row.
Few can come back from such a physical setback, particularly in a game like badminton, where twisting and jerking of the limbs takes place in virtually every rally. At the mental level, too, a player can find his confidence compromised. But Gopichand was no ordinary player, particularly at the mental level.
"In any case, I am not the kind to brood too much; I just knuckle down and do whatever has to be done," says Gopi, in a matter-of-fact way. "I put in many, many hours of gym work – probably more than I did in regular training. And I was always convinced that I could come back."
Former international Sanjay Sharma says: "Gopi was a stickler for physical fitness, was exceedingly hardworking, and had the kind of aggressive game that opponents would find very hard to tackle. He had comprehensively hammered the reigning Indian national champion Deepankar Bhattacharjee in the semi-final of the 1994 Pune Games, and looked all set to reign as national champion for the next `n' number of years. Unfortunately, that knee injury put the brakes on his career for a long time."
Yet, when Gopi returned to full fitness, there was no stopping him. At domestic level, he did not lose a single match after 1996. In fact, he did not lose even a game after 1997, until he announced his retirement in 2002.
"Do you know, we always believed that our second son (Gopichand, born on 16 November 1973 in the small coastal Andhra town of Nagantla) was special, and that he would achieve great things," his mother, Subbaraoamma Bose, told me, when I met her in December 2010 in connection with a book on 'Icons of Indian Badminton' that I was writing at the time.
The family's early nomadic existence was hardly ideal to pursue any serious sporting endeavour. Gopi's father worked in a transferable job with a bank; the family moved to Odisha for a while, and then spent four years in Chennai, before moving to Hyderabad in 1984. Gopi was an 11 year old, just getting into Std VI, when the family finally settled in Hyderabad.
"We lived close to the Lal Bahadur Shastri Stadium; and my parents thought that, since I was playing so much anyway, I might as well excel at one particular sport," says Gopi. "My mother's sister Manchala was a badminton player; she played for Andhra in the 1973 nationals at Patiala. My elder brother Rajsekhar had started playing badminton a few months before me. I simply followed him into the game."
There was nothing much in the matter of trophies and titles in the initial years. Gopi played in one Under-12 talent scout competition, and became the state's No 2 player, being also ranked No 15 in the country. He went on to play steadily better at the sub-junior level.
Victories started coming in 1991, Gopi's final year of eligibility for the junior nationals. He bagged the national boys' singles crown in Goa at the expense of Anil Mohan of Delhi; and would have dearly loved to parade his talents at the senior level in the nationals being held in his home town of Hyderabad. Sadly, he could not secure an entry.
The following year, when he represented Andhra in the senior nationals in Chennai, he went as far as the quarter-finals before losing to Rajeev Bagga, the reigning champion who was to go on to successfully defend the crown he had bagged in 1991.
It was in 1996, after making a comeback to badminton the previous year in the wake of a lengthy hiatus, that Gopi made the big breakthrough. He beat the three-time reigning national champion Bhattacharjee in the final in straight games, to launch his five-year reign as national champion. Gopi did not go for a sixth crown, partly because of a recurrent injury and partly because of his international commitments.
Gopi's left knee was to remain a weak spot, and was to give way on two more occasions – at the C.C.I. in Mumbai in 1996 and at the World Championships in Scotland in '98. On both occasions, arthroscopic surgery to trim a torn meniscus, followed by extensive physiotherapy, was required to get the player back on the court.
"Not many people have recovered after suffering an ACL tear and come back to play singles at the highest level," says Gopi. "A similar injury to another promising player, Manoj Kumar, was to spell an end to his badminton career. Today, medicine is far more advanced, surgical techniques much less invasive; and physiotherapy has become much more scientific."
Between 1997 and 2001, Gopi concentrated all his energies on singles, and cut out doubles from his regimen. After winning the national singles title for the fifth time in 2000-01, he was ready to conquer the world.
"I was probably playing the best of my career at the time," he reminisces. "Having become national champion in 1997-98, I had thought it was imperative for me to achieve as much as possible at the international level. Domestic competition had ceased to become important. I had already won the nationals more than once; so even if I were to win another national title, I would still be called a national champion. I had to do something at the international level to be remembered as a worthy player."
Gopi was very open to new ideas about training and playing, and began training very differently. He moved from the Prakash Padukone Academy in Bangalore to the Sports Authority of India (SAI), where he worked much harder on his weight training, and started playing a game that was very different from earlier days.
"I turned more towards aggression on the court," he says. "Off the court, I read up a lot on the game, got into yoga, controlled my diet. All these ideas had been with me from a very young age, but there was great help from (coach) Ganguly Prasad. The idea at the back of my mind was that I should do what I had set out to do, and put my full effort behind it. Then, if it did not happen, at least it would not have been for lack of effort! It was not that the knee did not bother me occasionally, but I just maintained my focus."
The story of his 2001 All-England foray reads like a fairy tale. Before the tournament, he had been playing well, and had reached the semi-finals of quite a few international tournaments, including the Asian Championships, Malaysian Open, Japan Open and Indonesian Open. He had beaten virtually all the top players in one tournament or another, but had not been able to string all the victories in a single tournament to win a title.
Since Gopi was ranked ninth in the world at the time, he was seeded in the 9-to-16 bracket at the Arena Birmingham, and was certainly not one of the favourites to win the title. Since he had been laid low by an unforgiving concrete surface at the 2000 Sydney Olympics that had been hell on his knees, he went to Birmingham without any expectations of winning the title, but at least performing well.
An unpleasant surprise awaited him – this tournament was also being played on concrete. 2001 happened to be the last year that the International Badminton Federation (as the Badminton World Federation was known in those days) held the tournament on concrete, because so many players complained. The following year onwards, it was played on a wooden surface, with synthetic Hova mats on top.
So hard was the surface on Gopi's knees that, after each practice session or match, he would lie down in a bath of ice tubs, despite the freezing cold. "It was a treatment I had worked out by myself!" Gopi smiles. "I went through that All-England tournament in a cloud of pain. But I remained totally focused. When I play a tournament, I don't read the papers, don't call home; I focus entirely on each match as it comes up.
"Match after match, I would not even look at the draw to see whom I would be up against. I would play my match, and then follow my set routine – get into the ice tub, eat the same food every day – tandoori chicken, dal and three rotis – in the restaurant downstairs, go back to the room, sleep. I would walk into the stadium an hour and a half before the match, and do everything in exactly the same manner."
After eliminating Ronald Susilo of Indonesia, England's Colin Houghton, China's Ji Xinpeng, and Denmark's Anders Boesen, all in straight games, Gopi came up against his biggest hurdle of the tournament in the semi-final – former All-England champion Peter Gade of Denmark. The match turned out to be a humdinger, but Gopi prevailed by a 17-14, 17-15 scoreline, to storm into the final.
In the summit clash against China's Chen Hong, the aggressive Gopi was veritably in the zone, and could do no wrong. The scoreline was 15-12, 15-6; and March 11, 2001, went down as a second red-letter day in the annals of Indian badminton.
In 2002, Gopi required surgery on his other (right) knee because of what the doctors called "over-use". This time, at the end of the recovery period, he started finding it increasingly difficult to compete at the highest level. He would train for a day, and find the knee swelling up.
If Gopi could not go all the way in most tournaments, it was partly because of his bad knees, and partly because he was already 27 by the time he won the All-England. That was certainly beyond the ideal age for a badminton singles player.
"By the time I could do all the permutations and combinations, and figure out what suited me best, my best years, physically speaking, were behind me," says Gopi. "I also played less, and worked more on my physical fitness when I prepared for tournaments. The lack of support staff and training partners also hit me hard.
Instead of practicing one-on-one, I used to have to play one-on-two or even one-on-three."
In 2003, Gopi experimented with doubles, which he had avoided for most of his career, and got instant success with the mixed doubles title in the 2003-04 nationals in partnership with Jwala Gutta. This happened shortly before Jwala paired up with Valayaveetil Diju in a combination that went on to bag four national crowns.
"My last international event was the Asian Satellite event in Hyderabad in 2004, when I was past my 30th year, but I managed to win that," says Gopi. "Looking back, I am happy with what I have achieved. Given the circumstances, I don't feel that I have left anything untried. We did not come from a wealthy background; and badminton is an expensive sport. There was a lot of support from the entire family; and we hardly had any social interaction outside our immediate circle."
In an effort to give back to the game what he had got from it, Gopi took to coaching in the summer of 2003. He started with training children at a summer coaching camp that year; and later, moved his coaching to the main Gachibowli Indoor Stadium.
"In November 2003, I was given government land to construct an academy," Gopi recalls. "We started construction of the academy complex in 2005, and completed it in 2008. Private sponsorship was not forthcoming, so I had to go to the extent of mortgaging the family house to get Rs 3 crores to complete the Pullela Gopichand Badminton Academy (PGBA) building."
It was a massive decision to put a bank lien on the house, but the family never wavered in its devotion to Gopi. "We did not think twice; we were very confident that it would get done. We knew that Gopi would do it; we have always been very confident about him," says his mother.
Today, Gopi feels pride at having been able to prove wrong the Doubting Thomas's who said that India could not produce world-class players. "We have proved wrong those who insisted that we cannot produce champions in India; and that we need to send our players to Denmark, China or Indonesia," he says. "During my playing days, I had gone around the world and been rejected by many training centres, so it has been doubly satisfying to produce top-class players here in India."
The final word in this tale comes from Umesh Nair, a PGBA trainee from Vellore, who was 11 years of age when I spoke to him in December 2010. The boy had been resident at the Academy for two months at the time; and, while training and playing through the day, was getting his schoolwork done at the hands of a visiting teacher. Rolling his eyes in reverence, Umesh breathed, "Gopi Sir is God!"