Suffolk Backyard Ultra: Runner completes 337 miles in 81 hours straight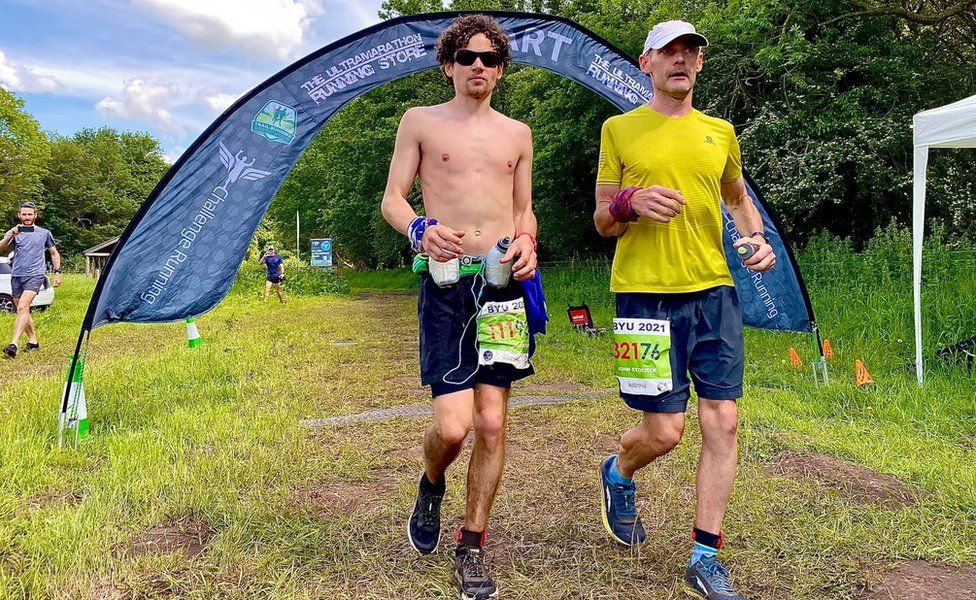 An ultra-distance runner has covered four miles every hour for 81 hours straight, completing more than 337 miles.
John Stocker beat Matt Blackburn in the Suffolk Backyard Ultra event that started on Saturday.
Participants have to run 4.167 miles (7km) at Knettishall Heath every hour until they can no longer carry on.
Organisers said Mr Blackburn, 35, and Mr Stocker, 41, both beat the previous world record for the global phenomenon.
They said the previous record of 312.5 miles (502km) in 75 hours was set by Belgian dentist Karel Sabbe in October.
Temperatures have been peaking at about 25C (77F) in Suffolk this week.
Lindley Chambers, race director of the first Backyard Ultra race to be held in England, said: "What these guys have achieved is pretty incredible."
Both runners completed 80 laps but Mr Blackburn pulled out during lap 81, with Mr Stocker completing the lap in his slowest time of 52 minutes to win the race.
Had he either pulled out or not completed the lap within an hour, there would have been no winner declared.
There were 123 starters at 12:00 BST on Saturday, and the event continued through the nights.
Mr Chambers added: "I knew we had the calibre of people taking part and I personally thought we'd do 50 or 60 loops but these guys have gone beyond my expectation and have gone further than anyone else in the world competing in this format."
Mr Chambers said there were hundreds of similar events all over the world.
The lap distance is set at 4.167 miles as that totals 100 miles in 24 hours.
Mr Chambers said each runner had their support crew back at the start/finish area.
He said Mr Blackburn, from New Mills, Derbyshire, and Mr Stocker, from Bicester, Oxfordshire, typically completed the laps in 45 to 50 minutes, so had 10 to 15 minutes to take on board some fuel, have a quick nap or toilet break before heading out again.
The winner in these events, that started in the US, is the last person standing.